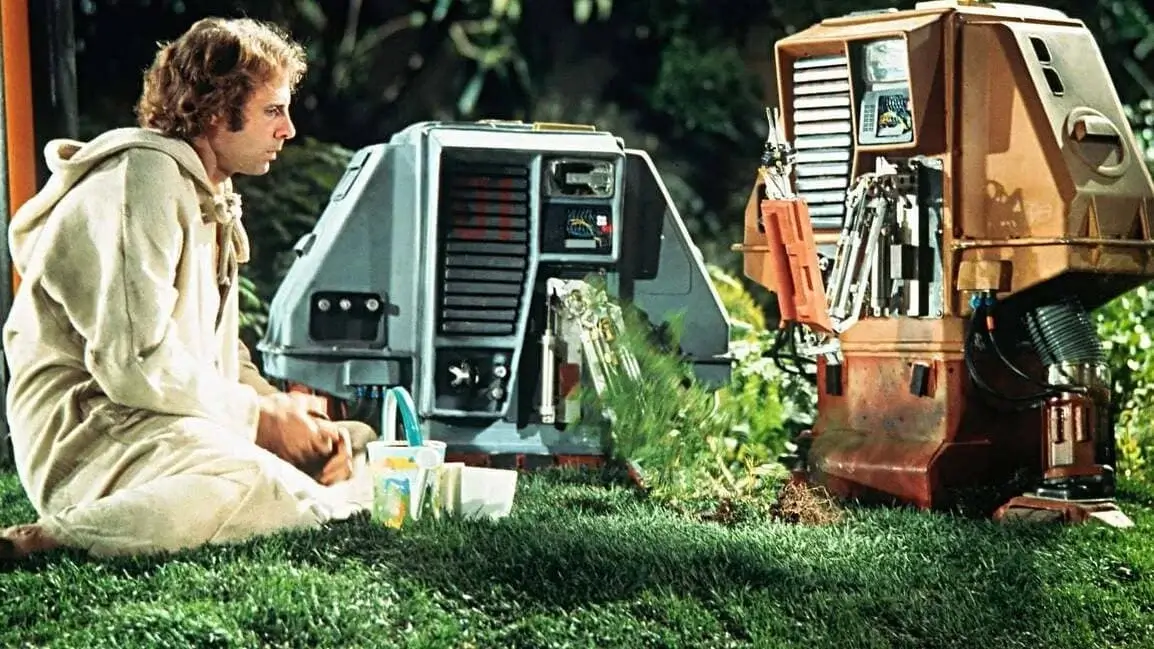 Silent Running 4K 1972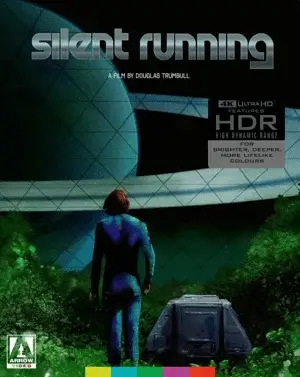 Film Description
It takes place on a space station, where selfless scientists are trying their best to preserve the last samples of terrestrial flora. But this is almost impossible...

4k movies reviews
...When Lowell finds himself all alone, he has no choice but to give the two remaining robots names and teach them how to play poker. The tricks of the game are completely inaccessible to Dewey and Huey - and they still win. Or does Lowell let them win? Maybe he's getting too carried away, treating the breakdowns and deaths of the machines as if they were alive. Their slumped gait looks too human, they even feel emotion-at least, Lowell thinks so. Director Douglas Trumbull's helper drones were the predecessors of George Lucas's droids and other examples of sci-fi robotics - but perhaps no one has managed to reproduce such touching creatures.

In 1969, the unexpected success of Dennis Hopper's directorial debut Easy Rider prompted Universal Studios to give several new projects to promising young directors. Budgets were tight, but the studio's control was also kept to a minimum. The program allowed George Lucas to direct "American Graffiti" and gave Milos Forman a chance to try his hand at Hollywood ("Breakaway"). Douglas Trumbull, who directed the special effects in Stanley Kubrick's "A Space Odyssey," got in on the same wave. The visual depth of "Silent Running" is impressive to this day. And Trumbull had to learn the art of directing while filming.

In the future, the Earth is stripped of its forest cover. Vegetation was preserved under huge domes sent into space on cargo ships. Freeman Lowell looks forward to the moment when the trees can again be planted on the surface of the planet. The rest of the crew doesn't care about greenery: even the fruit grown by Lowell disgusts them. The synthetic food is odorless and quickly addictive. When the order comes to deploy the ships and destroy the forests, Lowell's comrades rejoice, anticipating their imminent return home. But Lowell is determined to save at least one dome at all costs.

The story of Silent Running is full of unsolvable contradictions. Lowell, Bruce Dern's hero, commits villainy in the name of a good cause. But how do you call a villain and a criminal someone who is left with no choice? Lowell has always shunned society. It is only when he is left alone that he realizes how close to him were the rude, ignorant, and yet living people, no less alive and valuable than the woods he kept. "It's not that they were my friends," Lowell says with tears in his eyes. His friends are the three machines he unsuccessfully tries to replace the crew with, and the bird that lands on his arm under the dome. Humanity, in Lowell's eyes, has made itself the enemy of all life. But nothing evokes such sorrow in him as the loss of human life.

Trumbull ventures to make a story about a hero who is difficult to call sympathetic or even pragmatic. A man who stands in the way of a bulldozer and tries to protect his dilapidated home is generally considered insane. The madman may be right, but he is embarrassing. Why make so much noise? Is the forest so necessary when people have everything they need for a comfortable existence? Let the branches rustle in the wind and the grass leaves are covered with fine dew-but is the life of amphibians and birds and ferns and trees above that of sentient beings? Is Lowell, perhaps, just a lone eco-terrorist, a man who deserves the harshest punishment, not sympathy at all?

Trumbull's directing, like Dern's acting, is far from flawless. But it's worth taking your eyes off the action on screen, trying to imagine Silent Escape throughout, imagining the humanity that destroys and saves that Lowell aspires to - and fears more than life - to appreciate the depth of a seemingly simple parable. "Silent Escape," as a classic tragedy should, does not answer questions. It is a warning film whose theme is not at all limited to ecology. It is dangerous to deprive a person of what is dearer to him than life. Even if that person is a silent loner who is usually laughed at.

Info Blu-ray
Video
Codec: HEVC / H.265 (94.8 Mb/s)
Resolution: Native 4K (2160p)
HDR: Dolby Vision, HDR10
Aspect ratio: 1.85:1
Original aspect ratio: 1.85:1

Audio
English: DTS-HD Master Audio Mono (48kHz, 24-bit)
English: Dolby Digital Mono
English: Dolby Digital 2.0
Music: LPCM 2.0 (48kHz, 24-bit)

Subtitles
English, English SDH.
File size: 62.17 GB
4K-HD.CLUB
Download
from TakeFile
We now have
Telegram, get notified of new releases 4K movies!
Watch the movie trailer Silent Running 4K 1972
Related 4K movies
Do you enjoy downloading from TakeFile?