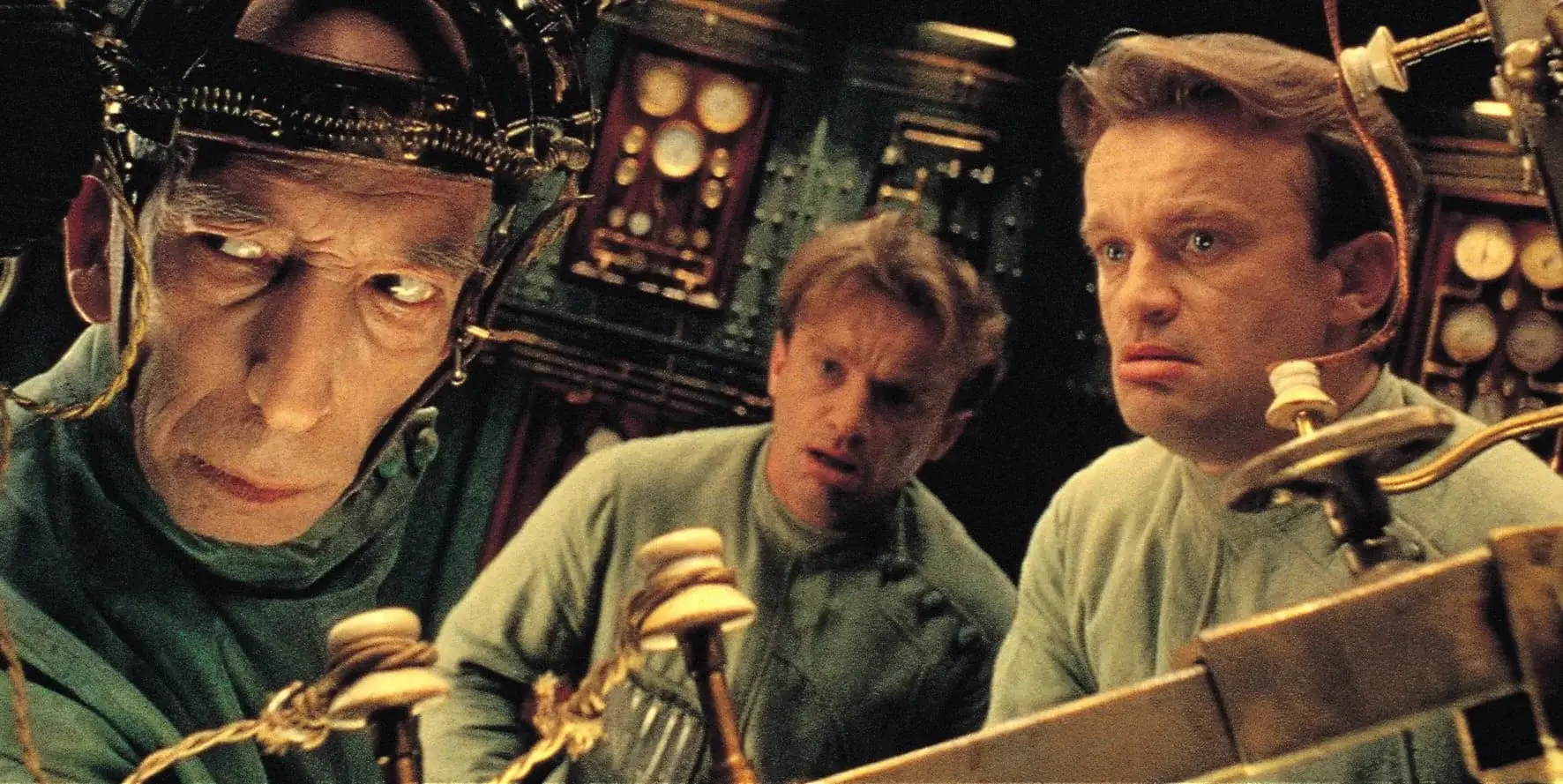 The City of Lost Children 4K 1995 FRENCH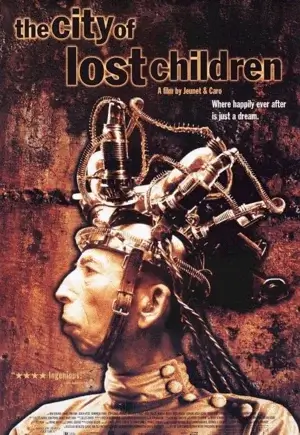 The City of Lost Children 4K 1995 FRENCH
Producer:
Marc Caro, Jean-Pierre Jeunet
Cast:
Ron Perlman, Daniel Emilfork, Judith Vittet, Dominique Pinon, Jean-Claude Dreyfus, Geneviève Brunet, Odile Mallet, Mireille Mossé, Serge Merlin, Rufus, Ticky Holgado, Joseph Lucien, Mapi Galán, Briac Barthélémy, Pierre-Quentin Faesch, Alexis Pivot, Léo Rubion, Guillaume Billod-Morel.
IMDB 7.5
File Size: 51.99 GB
Film Description
Not far from the harbor of the damp and fog-shrouded gloomy City of Lost Children, in a castle by the sea lives a terrible scientist named Krank, prematurely aged due to a complete inability to sleep. On Krank's orders, his cyclopean underlings kidnap the children and drag them into a grim laboratory, where the villainous scientist turns their dreams into his own.

But because the children are terrified of him, he only sees their nightmares. In search of his missing little brother, the circus strongman Wan comes to the City. He is aided by a brave nine-year-old girl, Myette, and her brigade of little resistance fighters.

4k movies reviews
Once upon a time, French directors Marc Caro and Jean-Pierre Jeunet created together. Together they created Delicatessen and then the most delightfully surreal tale, City of Lost Children. It really is a small work of art, to view which you must treat with care, approach the picture with the right mood not to spoil the authors' idea, not to spoil the pleasure that they have carefully prepared for us.

So, rainy evening, carefree state of light sadness. There's no need to go anywhere, you can wrap yourself in a warm blanket, and, with both hands on a cup of hot chocolate, plunge into another world, go on a trip to the city, completely unlike anything else in the City of Lost Children. In it, there are people with mechanical eyes, giants, homeless children, robbing children, Siamese twins. And on a tiny island lives a crazy man who can't sleep, surrounded by dwarfs, all looking the same, led by a dwarf, and a talking brain in an aquarium suffering from a migraine.

Everything in this film is fascinating, from the plot to the smallest interior detail. Everything is no accident, every frame is accurate, every character is original and worked out to the smallest detail.

The plot

This is not a cheesy fairy tale. Just look at the beginning with dozens of Santa Clauses filling the little boy's room and thus terrifying him. Unreal characters, however, are placed in very real situations in which they have to act to save their own lives and the lives of those they care about. There will be no such thing as a white magician suddenly appearing at the most difficult moment to save everyone. There will be no magic here at all, everything unreal is explained from a scientific point of view. And at the same time, the story is extremely fairy tale, childishly naive and touching.

A strongman named Odin (or literally Van) has his little brother kidnapped, and he and his new friend Miette, a girl who looks suspiciously like Amelie (you immediately remember who one of the directors is), set out to find him on a mysterious island. They will be confronted by almost everyone around them, there will be frankly sad, heavy and touching moments. Van's monologue about finding his little brother in a trash can. The scene where he hits Miette and a tear rolls down her cheek. The moment when Miette turns into a grandmother. All of this is filmed in an unchildishly stylish and beautiful way.

Actors

The strongman from the fair is played by Ron Perlman. A man with this appearance has had to play all sorts of giants, mutants, Hellboys, and other baddies all his life. The image of Van is one of the most successful in his filmography and perhaps the most touching and human. His relationship with Miette is touching. His way of talking makes you smile, but by no means laugh at him. The movie in general is very kind and pure.

The little girl herself in the red dress was played by Judith Wittet, unfortunately I haven't seen her anywhere else, but she was really adorable as a child and played as an adult. That serious face, her words about how "I'm not so little" are really touching. How scary it is that children have to grow up early.

Jean-Pierre Genet's calling card is Dominique Pignon, as if he appears in every one of his films. And here, there will be more than one Pignon, as many as five, if I haven't lost count. As always, he brings a healthy dose of humor and levity to the film.

Crank is really disgusting, and it's not just his appearance. He is a kind of a big, capricious child, which he is. I will remember Daniel Emilfock, who played him, for a long time. So will the dwarf Mirelle Mosse, who I saw later in "The Girl on the Bridge" and many other characters in this fascinating story.

Music

The music for the film was composed by Angelo Badalamenti. For me personally, it says it all. I have fallen in love with this composer since Twin Peaks. His melodies fit the atmosphere of the film perfectly and added to it and its charm.

Set

I read somewhere that Genet then used these very sets in his part of Alien. As you know, Americans don't watch European movies, so they didn't notice anything... The sets are very beautiful indeed. The film's world of objects itself is full of original finds. What about the huge mines that the heroes bounce off of as they swim to the island.

So, by the way, the costume designer of the picture was Jean-Paul Gauthier himself.

The tale is not Hollywood. It is very original, unlike anything else, devoid of templates, devoid of preaching and moralizing. This is a one-off product, there is not and will not be a "City of Lost Children 2". "City of Lost Children" is unique and unrepeatable.

Info Blu-ray
Video
Codec: HEVC / H.265 (59.1 Mb/s)
Resolution: Native 4K (2160p)
HDR: Dolby Vision, HDR10
Aspect ratio: 1.85:1
Original aspect ratio: 1.85:1

Audio
French: DTS-HD Master Audio 5.1 (48kHz, 16-bit)
French: DTS-HD Master Audio 2.0
French: Dolby Digital 5.1
French: Dolby Digital 2.0
English: DTS-HD Master Audio 2.0 (48kHz, 16-bit)
English: Dolby Digital 5.1
English: Dolby Digital 2.0

Subtitles
English, English SDH.




File size: 51.99 GB
Is Link Dead? Let us know and we'll replace the link.
Report
We now have
Telegram, get notified of new releases 4K movies!
Watch the movie trailer The City of Lost Children 4K 1995 FRENCH
Related 4K movies
What genre of 4K movies do you prefer?