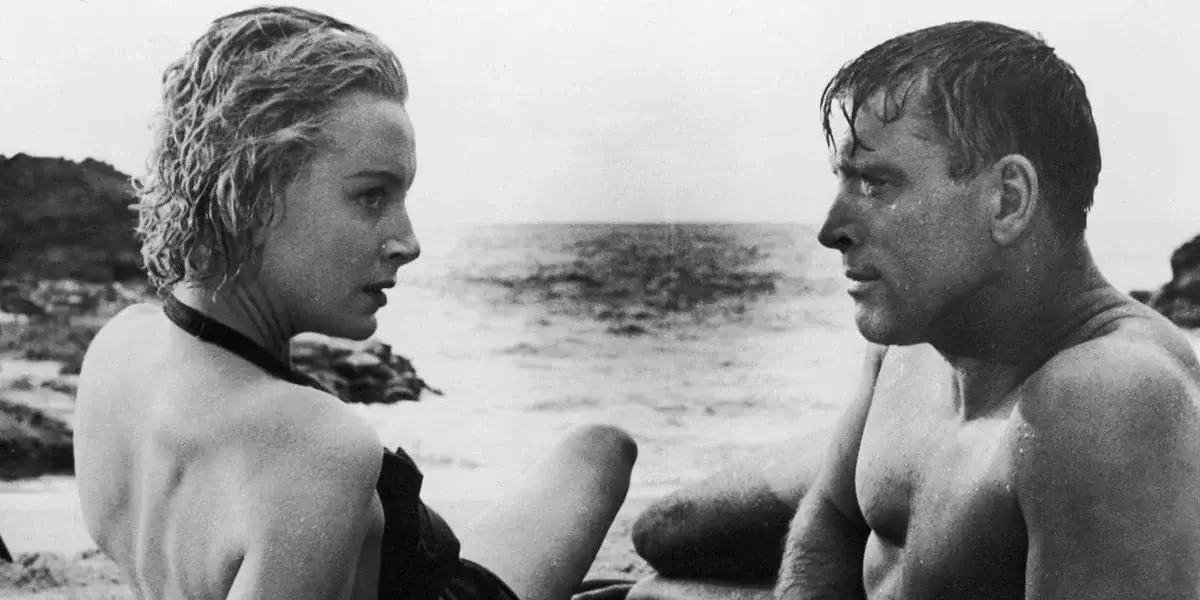 From Here to Eternity 4K 1953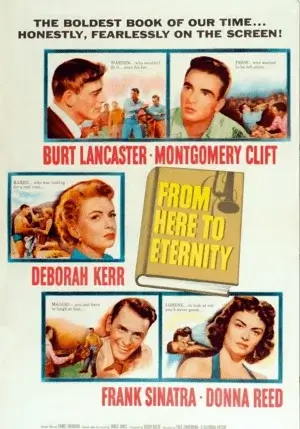 From Here to Eternity 4K 1953
Cast:
Burt Lancaster, Montgomery Clift, Deborah Kerr, Donna Reed, Frank Sinatra, Philip Ober, Mickey Shaughnessy, Harry Bellaver, Ernest Borgnine, Jack Warden, John Dennis, Merle Travis, Tim Ryan, Arthur Keegan, Barbara Morrison, Claude Akins, Vicki Bakken, Margaret Barstow.
IMDB 7.6
File Size: 55.77 GB
Film Description
Robert Lee Pruitt is transferred to another unit after an accident. An accomplished boxer, he refuses to enter the ring because he injured his friend during a training fight, causing him to go blind.

However, for the Army brass, sport is not a bad career tool, and Private Pruitt's unwillingness to step into the ring is seen as something very close to treason. It is this refusal that makes Pruitt a subversive in the eyes of his superiors, especially Captain Homs. Among the large number of very colorful members of the garrison stand out, Private Angelo Maggio, who finds himself in a military prison famous for its intransigence toward troublemakers.

Sergeant Milton Warden, on the other hand, hating the officers as both an institution and the sum of particular individuals, resists in his own way - with his impeccable knowledge of his duties and high professionalism, making him simply irreplaceable in the company. However, his revenge on his superiors also takes very concrete forms: he has an affair with the wife of his company commander, Karen Homs, who feels nothing but contempt for her husband.

However, neither Milton nor Karen are under no illusions about the durability of their romance, which nevertheless threatens to outgrow the scope of an ordinary fling and turn into a great, all-consuming love...

Only a few days pass and there comes the seventh of December 1941, when the Japanese Air Force delivers a massive blow to the American military base Pearl Harbor in Hawaii and the fate of the heroes of this film.

4k movies reviews
Speaking of this film, it is impossible not to mention its literary basis - the novel of the same name by James Jones. It is an astonishingly powerful work, probably the best of what has been written about army life in world literature.

In its pages, remarkable poetry, lyricism and warmth coexist with descriptions of the most unsightly aspects of life in the military garrison: hazing, drunkenness, beatings, racism, STDs and prostitution.

In 40-50s in the U.S. there was a paradoxical situation - great freedom in literature and an abundance of censorship restrictions in the film industry. Therefore, the adaptation of the novel by James Jones, despite all its merits, it all turned out emasculated and sleazy. Especially the image of one of the most memorable and complex characters, Milton Warden, suffered.

Despite the fact that the sensual episode of a kiss in the surf of foam was included in all the textbooks on the history of Hollywood, the love line of Warden - Karen was greased, lacking the heat of passion that was in the novel.

The brilliant finale of the book, when Karen goes home and Warden arranges a grand drinking party in a public house, and all this against the backdrop of the hurrah-patriotic calls about America's entry into the war, also left out of the picture.

But the creators of "From Here to Eternity" still managed to retain the main story lines of a voluminous novel, accurately convey the atmosphere of army life, bypass some censorship slingshot and make an outstanding movie.

This was largely due to the remarkable acting work of Burt Lancaster and Montgomery Clift.

In this film, Burt Lancaster appears to the audience at the height of his talent and masculine charm. He has a marvelous expression of the eyes. High, beautifully built Lancaster (formerly a circus gymnast) belonged to the golden cohort of Hollywood stars, such as M. Brando, P. Newman, H. Peck. Their faces bore not only the stamp of beauty, but also of human significance. They were actors and personalities with a capital letter, not just pretty puppets, which has now multiplied great many.

Montgomery Clift... His acting is so modern, so natural, that at first you don't notice or appreciate it at all. Until Frank Sinatra appears in the picture, which is the greatest disappointment of the film (in my opinion, he got an undeserved Oscar for his role). Comparing Clift and Sinatra, you can clearly see the clash of the two schools of acting. Striking organic Clift, a student of Lee Strasberg - and pretentious, feigned style of Hollywood 30-40 years with Sinatra.

Info Blu-ray
Video
Codec: HEVC / H.265 (57.2 Mb/s)
Resolution: Native 4K (2160p)
HDR: Dolby Vision, HDR10
Aspect ratio: 1.37:1
Original aspect ratio: 1.37:1

Audio
English: Dolby TrueHD with Dolby Atmos 7.1 (48kHz, 24-bit)
English: DTS-HD Master Audio 7.1 (48kHz, 24-bit)
English: DTS-HD Master Audio 2.0 Mono (48kHz, 24-bit)
English: Dolby Digital 5.1
French: Dolby Digital 2.0
German: Dolby Digital 2.0
Italian: Dolby Digital 2.0
Portuguese: Dolby Digital 2.0
Spanish: Dolby Digital 2.0
Spanish: Dolby Digital 2.0

Note: Spanish: Castilian + Latin American options.

Subtitles
English, English SDH, Arabic, Bulgarian, Mandarin (Traditional), Czech, Danish, Dutch, Finnish, French, German, Greek, Hebrew, Hindi, Hungarian, Icelandic, Italian, Korean, Norwegian, Polish, Portuguese, Spanish, Swedish, Thai, Turkish.
File size: 55.77 GB
4K-HD.CLUB
Download
from TakeFile
We now have
Telegram, get notified of new releases 4K movies!
Watch the movie trailer From Here to Eternity 4K 1953
Related 4K movies