Groundhog Day 4K 1993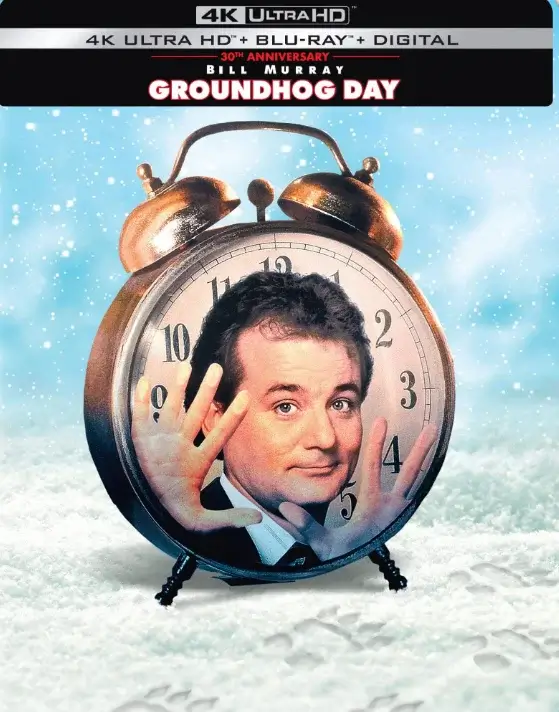 Groundhog Day 4K 1993
Cast:
Bill Murray, Andie MacDowell, Chris Elliott, Stephen Tobolowsky, Brian Doyle-Murray, Marita Geraghty, Angela Paton, Rick Ducommun, Rick Overton, Robin Duke, Carol Bivins, Willie Garson, Ken Hudson Campbell, Les Podewell, Rod Sell...
IMDB 8.0
File Size: 53.88 GB
Film Description
A weatherman finds himself inexplicably living the same day over and over again. Movie in 4K ULTRA HD, download now.

Story Movie
A weather man is reluctantly sent to cover a story about a weather forecasting "rat" (as he calls it). This is his fourth year on the story, and he makes no effort to hide his frustration. On awaking the 'following' day he discovers that it's Groundhog Day again, and again, and again. First he uses this to his advantage, then comes the realisation that he is doomed to spend the rest of eternity in the same place, seeing the same people do the same thing EVERY day.

Groundhog Day 4K Review
Not counting Caddy shack, this is Bill Murray's best performance. While Christmas and Halloween have their annual holiday movies, who would have thought that Groundhog Day would have a movie of its own.

A terrific (family) movie, Bill Murray stars as a sullen / sarcastic news reporter who is stuck living the same day over and over again....until he gets it right. This comedy stands alone as one of the funniest and most original movies of the 90's. Not many comedies can be funny and also end with a moral. Groundhog Day has both. Before the Farrelly Brothers or Wes Anderson found an audience, there was Groundhog Day. Pennsylvania never looked better or funnier.

Groundhog Day 4K 1993 30th Anniversary Edition: English audio track only.

Info Blu-ray
Video
Codec: HEVC / H.265
Resolution: Native 4K (2160p)
HDR: HDR10
Aspect ratio: 1.85:1
Original aspect ratio: 1.85:1

Audio
English: Dolby Atmos
English: Dolby TrueHD 7.1 (48kHz, 24-bit)
Czech: Dolby Digital 5.1
English: Dolby Digital 5.1
French (Canada): Dolby Digital 2.0
German: Dolby Digital 5.1
Hungarian: Dolby Digital 5.1
Italian: Dolby Digital 5.1
Japanese: Dolby Digital 2.0
Polish: Dolby Digital 5.1
Portuguese: Dolby Digital 5.1
Russian: Dolby Digital 5.1
Spanish: Dolby Digital 5.1
Spanish: Dolby Digital 2.0
Thai: Dolby Digital Mono

Note: Polish and Russian VO, Spanish Castilian 5.1 and Latin American 2.0

Subtitles
English, English SDH, French, German, Italian, Japanese, Portuguese, Spanish, Arabic, Czech, Danish, Dutch, Finnish, Greek, Hungarian, Icelandic, Korean, Mandarin (Simplified), Mandarin (Traditional), Norwegian, Polish, Romanian, Swedish, Thai, Turkish




File size: 53.88 GB
Is Link Dead? Let us know and we'll replace the link.
Report
We now have
Telegram, get notified of new releases 4K movies!
Watch the movie trailer Groundhog Day 4K 1993
Related 4K movies
What genre of 4K movies do you prefer?