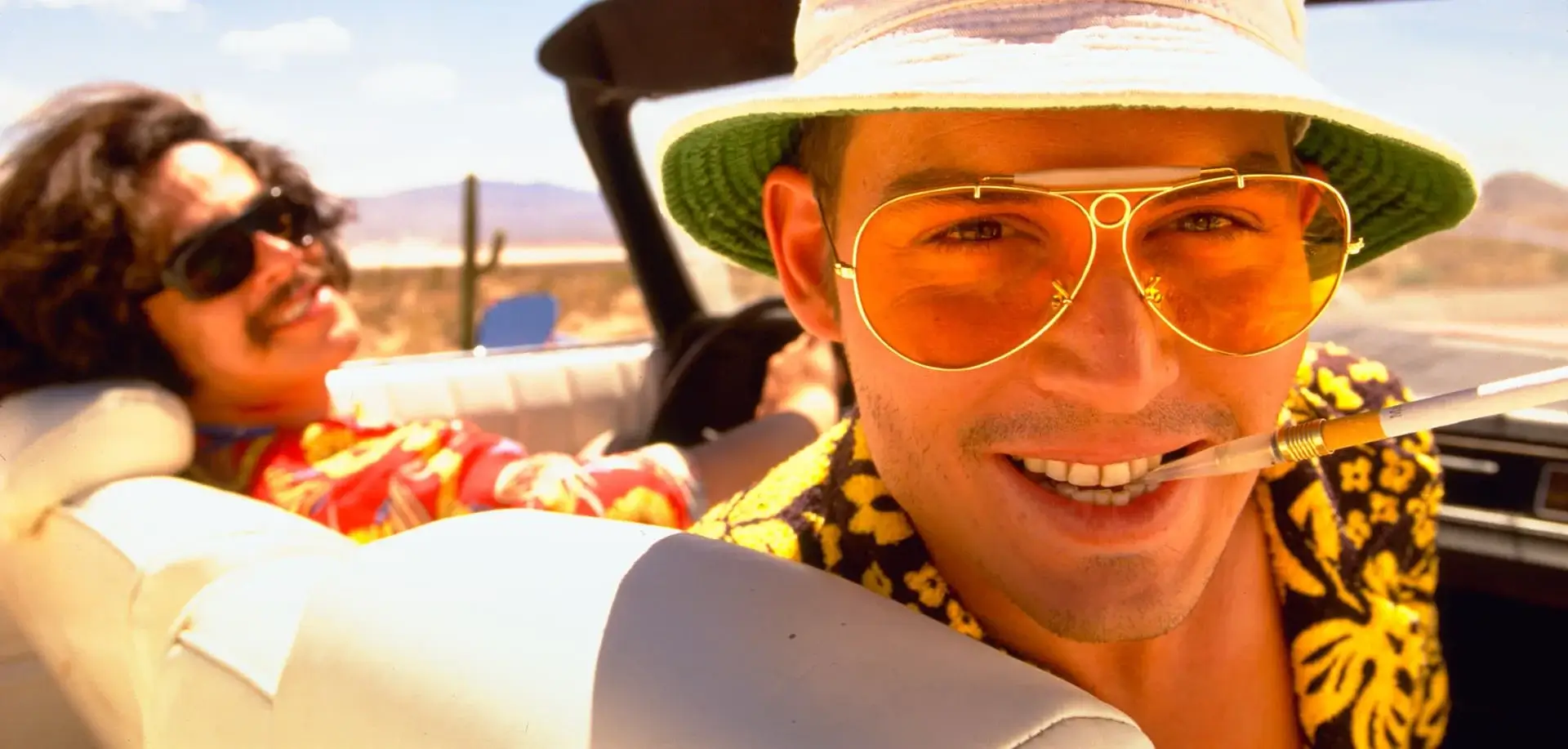 Fear and Loathing in Las Vegas 4K 1998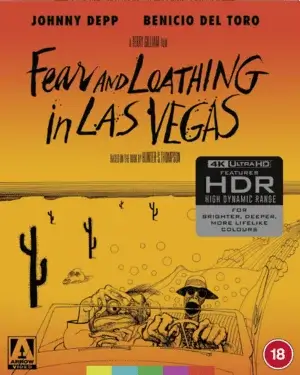 Fear and Loathing in Las Vegas 4K 1998
Cast:
Johnny Depp, Benicio Del Toro, Tobey Maguire, Michael Lee Gogin, Larry Cedar, Brian Le Baron, Katherine Helmond, Michael Warwick, Craig Bierko, Tyde Kierney, Mark Harmon, Tim Thomerson, Richard Riehle, Ransom Gates, Laraine Newman, Frank Romano, Gil Boccaccio, Gary Bruno.
IMDB 7.5
File Size: 78.74 GB
Film Description
Two buddies go to Las Vegas. Sports columnist Raoul Duke goes to cover the famous Mint 400 race. His companion's name is Dr. Gonzo, and he is a lawyer. The review of the Mint 400 turns out to be a complete failure due to inclement weather and the reviewer's lack of interest, so Duke and Gonzo head to the casino.

4k movies reviews
Terry Gilliam's adaptation of Hunter Stockton Thompson's Fear and Loathing in Las Vegas created one of the most iconic films of the '90s. The film didn't gross big at the box office, it didn't win any awards, but it found, something more important, its audience, who will be with it for a long time to come.

Telling the story of the film is a rather thankless task. Journalism professor Raoul Duke and his friend or alter ego, Dr. Gonzo, go to Las Vegas to cover the motorcycle races there, or to the heart of the American dream, as you prefer. That's about it, there's nothing more to say, you have to see it because

The idea of covering all this by traditional methods is absurd.

We all know that our world and our society are far from ideal. Problems of a particular individual's relationship to the society around him, of dissatisfaction with the existing and generally accepted system of values are not so rarely raised in serious literature and intellectual cinema. But it is hard to remember where they are presented with more originality and sincerity than in Thompson's book and Gilliam's film. With what, in terms of cruel satire, can we compare the terrarium that Gilliam showed us? Except to Swift's island of guingmos and yahoos. With what hero is Raoul Duke to be compared? Unless one were to compare him to The Big Lebowski. It may seem a strange comparison, but the films raise similar problems in many ways, and both characters protest against the society around them. Except they do it in different ways. But while the Coens' description of the problem is a little detached, filled with irony and outright banter, the attitude of the Fear and Loathing's creators is more personal, it's an open wound, and if we look at it more closely, we'll see thin streams of blood.

The duo of Johnny Depp and Benicio Del Toro is unparalleled. The images they created are so colorful, and the acting is so flawless that regardless of the understanding and attitude towards the content of the picture, it is almost impossible to tear yourself away from viewing. Perhaps the best characteristic of their acting, was the delight of the viewer, who best understood exactly how they were supposed to play in this film. That viewer's name is Hunter Thompson.

No one could probably have screened Fear and Loathing better than Terry Gilliam. His style and manner, could not be better suited to transfer the book to the wide screen. Gilliam succeeded in creating a true masterpiece. A film that transcends cinematography, which contains the cruelest satire on human society and a protest against much of the vulgarity and hypocrisy that unfortunately exists in our world.

"Fear and Loathing in Las Vegas" is a very difficult film to understand. As a result, there are a number of misconceptions associated with it.

Many who have watched the film through and through are full of the belief that this movie is primarily about drugs and addicts. In fact, the drugs and the delirium they provoke are merely an artistic device by which we are shown the characters' relationship to the world around them. The original title "Fear and Loathing in Las Vegas" which, for some strange reason, was changed by domestic distributors, more accurately reflects the sense of the film. It is fear and disgust at the reality around them that Raul Duke and Dr. Gonzo. And the fear and disgust are so strong that they are looking for any way to escape from the heinous reality. This is exactly what drugs help them do.

The drug delirium gradually receded, and all the horror of reality began to reach me.

Only in a state of drug intoxication do the heroes manage to come to terms with the world around them, at least for a while.
Some go further, and accuse Gilliam's film of promoting drugs. This is due to the fact that all the criticism of drugs in the film, is done in subtle halftones. But a reading of the literary primary source, which contains for various reasons not included in the film, the story of a drug addict who tore out his eyeballs, and the description of a drug dealer, gives a real understanding of Thompson's position on drugs.

To many, Fear and Loathing is seen primarily as a comedy. It is understandable, because Hunter Thompson's language is not devoid of humor, and there are a lot of funny moments in the movie. Only it is laughing through tears. The reason for such presentation of the material lies on the surface. What do we hear in the film?

Another freak in the kingdom of freaks.

This is exactly the kind of accusation that is thrown in our faces. To say such words without veiling them with subtle irony was hardly possible. Too few people are willing to hear such a thing.

Many, no less mistakenly, see this picture as a story solely about the tragedy of the hippie generation, and believe that the problems raised in the film have nothing to do with them. Of course, in his book, Thompson, first of all, reveals his personal tragedy, the tragedy of his generation. And the references to Horatio Elder, Charlie Manson and Tim Leary are not easy for us, people who live in another time and another country, to understand without special familiarity with the material.

How many years has it been since then, five, six?

In Fear and Loathing in Las Vegas we really hear an epitaph to the hippie generation. The generation that sought true freedom and tried to make the world a better place.

A generation of eternal cripples, fallen seekers, hopelessly assuming that someone, or at least something, could lead to the light at the end of the tunnel.

But there is another way to look at this question. What has actually changed since then? Each generation, something different from the previous one, but primarily in external manifestations. The internal component changes very slowly.

The world is mad at any time and in any direction.
All their losses and defeats are at the same time our losses and defeats.

The American dream found in Russia at the turn of the century, its second home. The main criterion for evaluating people is their level of material well-being, how successful they are in this life. We, too, are afraid of those who are different from us, the inner world of others, few people are interested. Man is still not free. One can shut oneself off from all these problems, or simply dissolve into the crowd, but not everyone wants to, and not everyone can.

The moral choice, after all, is up to us. To become just another freak in the freak kingdom, or to try to find the other way that one has been looking for so long, but may never have found, Hunter S. Thompson.

Info Blu-ray
Video
Codec: HEVC / H.265 (89.0 Mb/s)
Resolution: Native 4K (2160p)
HDR: Dolby Vision, HDR10
Original aspect ratio: 2.39:1

Audio
English: DTS-HD Master Audio 5.1
English: DTS-HD Master Audio 2.0
English: Dolby Digital 5.1
English: Dolby Digital 2.0

Subtitles
English SDH.




File size: 78.74 GB
Is Link Dead? Let us know and we'll replace the link.
Report
We now have
Telegram, get notified of new releases 4K movies!
Watch the movie trailer Fear and Loathing in Las Vegas 4K 1998
Related 4K movies
What genre of 4K movies do you prefer?