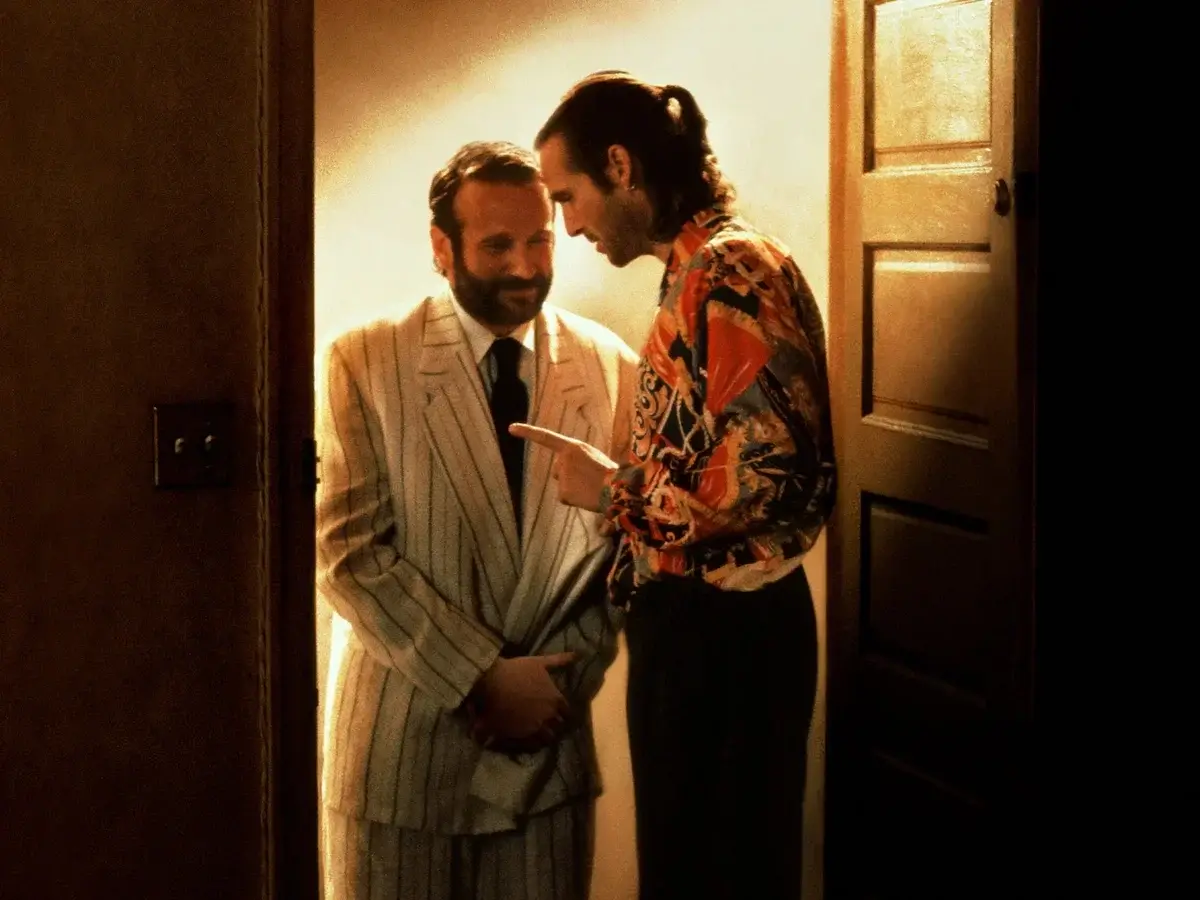 The Fisher King 4K 1991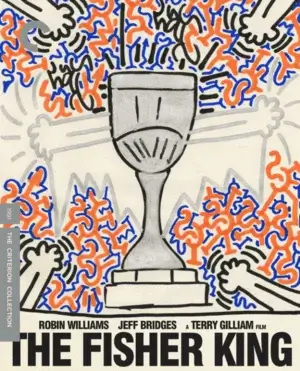 The Fisher King 4K 1991
Cast:
Jeff Bridges, Robin Williams, Adam Bryant, Paul Lombardi, David Hyde Pierce, Ted Ross, Lara Harris, Warren Olney, Frazer Smith, Mercedes Ruehl, Kathy Najimy, Harry Shearer, Melinda Culea, James Remini, Mark Bowden, John Ottavino, Brian Michaels, Jayce Bartok.
IMDB 7.5
File Size: 83.78 GB
Film Description
Jack is a popular radio host. He has a sense of humor, sarcasm, and professional cynicism, which eventually turns into tragedy: one of his regular listeners took his ironic advice: he walked into a crowded cafe and unloaded a full clip into unsuspecting customers.

Shocked, Jack quits his job and goes on a binge, sinking to the bottom of despair. This is when he meets Parry, a homeless drifter, a former history professor, who draws him into an amazing world of his own fantasies, where medieval knights parade through the dreary streets of a huge city, and skyscrapers are transformed into majestic castles.

Together they set out on a quest for the Holy Grail...to the borough of Manhattan.

4k movies reviews
Garshin has a story called 'Red Flower' in which a selfless patient in a psychiatric hospital decided to fight the red flower that grew outside his window and for him embodied all the evil in the world. Perhaps the flower was just a flower, but the very courage of a man who risked a deadly step to save others is admirable. After all, in his world he found himself one-on-one with universal evil and endured, survived the battle, sacrificed his life not for his own sake.

Having survived terrible tragedies and left alone with their own fear and pain, the heroes of this film do not own their minds - each in his own way. One escapes into a world where knights win the Holy Grails and win the hearts of beautiful ladies, the other, more down-to-earth, drowns his sorrows in alcohol, drinking himself into oblivion. Each has his own little world, only one has enough imagination to save his soul, and the other has no imagination at all, so it is quite difficult for him. Both are cursed and bear their cross - one is insane and universally despised, the other is branded a murderer, the perpetrator of a terrible tragedy. Both are essentially insane.

But the fact is that sanity here is completely abstract. What hurts and scares them the most is to remain in the 'normal' world - the world of 'sane' people, serious thoughts and ordinary everyday problems. Insanity allows them to reach a state in which they can get rid of the shackles of a boring everyday life, the mud of reality and the canonical 'so-and-so' stuck on their boots and look at the underside of the world. Or maybe - to see it just as it is. Deprived of the obligation to be 'normal', the characters embark on a glorious odyssey in search of concepts that in the real world we easily operate, but often forget their true meaning - love, friendship, faith, understanding. They go in search of themselves. And perhaps the only way to find yourself is to free yourself from the mind that manipulates the soul. This odyssey is beyond time and space, they go deep inside themselves in search of the causes of the tragedy of their present.

The 'refusal of reason' philosophy has been present in one way or another in all of Gilliam's films, from the relatively 'light' Monty Python and the Holy Grail (the Grail again!) and Bandits in Time to the Nietzschean parables of the 'late Gilliam'. If reason hinders you, if it slows down your search, stains your soul, prevents you from believing yourself - give it up for a while, 'go mad', search where cruel reality cannot lay down its laws - and perhaps, cured in that world, you will be cured in this one as well. And by insanity here I don't necessarily mean something clinical. You don't have to be crazy to learn to dream, to believe, to think. Yes, a lot of people think this is crazy - pragmatic, correct, cynical - but what do we care about them? Gilliam divides the world into 'our own' and 'outsiders' again and again in each film. Into this little 'own' world only a select few are allowed - the blessed, the seekers, the lost. Indifferent human-robots are strictly forbidden to enter this world.

The action is set in modern New York, but it seems - as if on another planet or in another dimension. Like in H.G. Wells' story about a drug that speeds up a man - the world around seems to hover, dripping in slow drops on the time dial, alien and alien, and in this puppet world another world lives by its own laws - the cranks and dreamers, fighting evil in whatever form it may appear and producing symbols of eternal good, no matter what we call them.

Acting as the full creator of this world, Gilliam endows its inhabitants with miraculous possibilities. They are able to change and change the world around them, easily maneuver between different human states, finding only the best of them and instantly eradicating the worst, to swim not even against the current, but outside it at all, effortlessly erasing the line between fantasy and reality and mixing them.

Jack and Perry rescue each other, plugging the holes in their psyches through which the pain eating away at them bursts forth. Both undergo difficult trials, a rite of cleansing from curses, at the same time one teaches the other to understand the simple delights of life, the deep wisdom of the ancients, who knows where in the little half-mad man and true friendship, and the other pays him back a hundredfold, returning faith and love...

The Fisher King" is not just a movie, it is the culmination of Gilliam's career, the quintessence of the best in his previous and subsequent films, expressed in the finest in his work, almost at the molecular level, woven from some higher matter connection of reality, fantasy, madness, irony, divine spark, devilish charm, wisdom, faith, love, cosmic energy, mythology, plot, holy lies and bitter truth. This is a kind of cinema-Gral, taking it in your hands, you feel an incredible inspiration, an influx of vitality, so strong that you want to embrace the whole world. It's a spiritual movie in which Gilliam acts as a kind of guide to a world where every wounded soul is given a cure and the right to a second chance.

Jeff Bridges is certainly a tremendous talent, worthy of his great father, but still, the success of 'The Fisher King' is primarily the success of Robin Williams, who played one of his best, perhaps his best role here. He blended perfectly into the world of Guillamian fantasy, and I do not understand why he did not get an Oscar for this role, and for the role in 'Good Will Hunting. - with the same semantic overtones, but less vivid, he did. Nevertheless, the role of Perry - it was unanimously recognized as one of the major achievements in the actor's career. On the one hand, it is a very characteristic role in which Williams appears in the form of a street clown, on the other - a surprisingly deep and full of overtones role of the lyrical madman, the role of Hamlet scale. This is a man-light, a giant of spirit with a sensitive human heart, full of love for people. And, of course, it is his role that leads, it is he who organizes around the film an aura of fantasy, of fairy tale, it is he who has the great gift of sacrificing himself to fight forces many times greater than his own; Williams appears here as a real fighter, a teacher, a clown, a philosopher, a madman, a savior.

Naturally, Bridges was superb, his duet with Robin presenting us with one of the greatest stories of true friendship. And not many actors other than Bridges would have been able to play the complicated fractures in the psyche of a successful and 'ordinary' man for the time being.

It's probably one of the best films world cinema has managed to make, and also Gilliam's best film, a gorgeous phantasmagorical parable, beautiful in every minute. Strictly speaking, it's not a film at all, but a box with a secret, whose degree of wonder depends on how much you yourself want to be tricked or bewitched by one of the greatest magicians of modern cinema.

Info Blu-ray
Video
Codec: HEVC / H.265 (82.6 Mb/s)
Resolution: Native 4K (2160p)
HDR: Dolby Vision, HDR10
Aspect ratio: 1.85:1
Original aspect ratio: 1.85:1

Audio
English: DTS-HD Master Audio 5.1 (48kHz, 24-bit)
English: Dolby Digital 5.1
English: Dolby Digital 1.0

Subtitles
English, English SDH.
File size: 83.78 GB
4K-HD.CLUB
Download
from TakeFile
We now have
Telegram, get notified of new releases 4K movies!
Watch the movie trailer The Fisher King 4K 1991
Related 4K movies
Do you enjoy downloading from TakeFile?