Superman IV: The Quest for Peace 4K 1987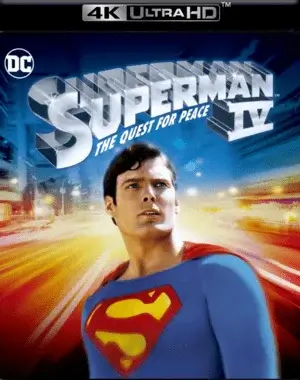 Superman IV: The Quest for Peace 4K 1987
Producer:
Sidney J. Furie
Cast:
Christopher Reeve, Gene Hackman, Margot Kidder, Jackie Cooper, Marc McClure, Jon Cryer, Sam Wanamaker, Mark Pillow, Mariel Hemingway, Damian McLawhorn, William Hootkins, Jim Broadbent, Stanley Lebor, Don Fellows, Robert Beatty, Bradley Lavelle, Mac McDonald, Czeslaw Grocholski.
IMDB 3.7
File Size: 52.02 GB
Film Description
A sequel to the Superman comic book adaptation. This time - the Kryptonian will have to destroy all nuclear weapons, raise the prelude to peace, as well as sort out his feelings and fight with the next enemy.

4k movies reviews
You know the history of the Superman movies is similar to the history of the Batman movies. The first films were masterpieces. The sequels were good, but still fell short of the original. The third films were comedies. And the fourth ones... the fourth ones were bad. Very bad. The coincidence is unbelievable.

It's clear from the first shots that the movie is going to be bad. The special effects are nowhere near as good as the previous installments. The physics in the movie are just zero. A cape developing in a vacuum, Superman talking in space and holding the Statue of Liberty by his fingers are not all the technical omissions in this movie. The plot also leaves a lot to be desired. There are so many stories that it's hard to keep track of them all. So I will try to focus my review on the main focus of the movie, Nuclear Weapons and the Arms Race. It was made in 1987 when the relations between the USA and the USSR were at their peak. And the people who made this film are obviously those people who think that getting rid of nuclear weapons in the world is a good thing. It goes like this. Superman comes to a summit of states and announces to the world that he will rid it of nuclear weapons. Now imagine this situation. In the country of Israel, which is surrounded on all sides by enemies and wants to destroy, Superman flies in and says he will take away all the nuclear weapons. What do you think will happen to Israel after that? Or another example. The US and the USSR have very tense relations and all that keeps both countries from a conventional war is the fear of nuclear weapons. Superman shows up and says he's going to deprive the US and the USSR of their bombs. In my opinion, the only thing that awaits both of these countries is World War III.

What can I say in conclusion. I do not recommend to watch this film to anyone. It is very stupid and boring. If you are a huge fan of Superman, and do not miss a single cartoon or comic book - this movie is for you. I'm generally surprised by Hollywood with its endless sequels. Sure, there have been times when sequels have been better than the first films (Terminator 2, Aliens). But whichever series you look at, consisting of 4 films or more - everywhere every subsequent film is worse than the previous one. That's 'Home Alone', 'Rocky', 'Zombie', 'Halloween' and so on. No matter how hard the directors and producers try, the more sequels they make, the worse each subsequent one will be.

Info Blu-ray
Video
Codec: HEVC / H.265 (72.9 Mb/s)
Resolution: Native 4K (2160p)
HDR: HDR10
Original aspect ratio: 2.39:1

Audio
English: Dolby TrueHD with Dolby Atmos 7.1 (48kHz, 24-bit)
English: DTS-HD Master Audio 7.1 (48kHz, 24-bit)
English: DTS-HD Master Audio 2.0 (48kHz, 24-bit)
English: Dolby Digital 5.1
English: Dolby Digital 2.0
French: Dolby Digital 2.0
German: Dolby Digital 2.0
Italian: Dolby Digital 2.0
Spanish (Latino): Dolby Digital 2.0
Spanish: Dolby Digital Mono

Subtitles
English SDH, French, German, Italian, Japanese, Spanish, Dutch, Danish, Finnish, Norwegian, Korean, Swedish.
File size: 52.02 GB
4K-HD.CLUB
Download
from TakeFile
We now have
Telegram, get notified of new releases 4K movies!
Watch the movie trailer Superman IV: The Quest for Peace 4K 1987
Related 4K movies
Do you enjoy downloading from TakeFile?