Resident Evil: Death Island 4K 2023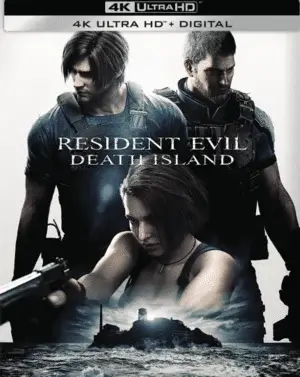 Resident Evil: Death Island 4K 2023
Producer:
Eiichirô Hasumi
Cast:
Matthew Mercer, Nicole Tompkins, Kevin Dorman, Stephanie Panisello, Erin Cahill, Salli Saffioti, Daman Mills, Lucien Dodge, Cristina Valenzuela, Frank Todaro, Alejandro Saab, Bob Carter, Isaac Robinson-Smith, Bill Butts, Brent Mukai, Dawn M. Bennett, Joe Hernandez, John Bentley.
IMDB 5.9
File Size: 37.72 GB
Film Description
Agent Chris Redfield investigates a zombie outbreak in San Francisco where the cause of the infestation cannot be determined. The only thing the victims have in common is that they all recently visited Alcatraz Island. Following this clue, Chris and his team travel to the island where a new horror awaits them.

4k movies reviews
While Infinite Darkness looked a bit dated, they dialed up path tracing to the max here.

It really looks good most of the time and styled like recent RE game remakes.

That's about it.

Although, you could say the "movie" is very efficient... short is maybe a better word for it. Action kicks off right away and it's dumb, so dumb.

Plot is on par with previous non-game entries, nothing really important to the overall plot. A side mission if you will, against some random evil doers. Zero horror, all the action. No stakes. Life saving chekhov's gun is mentioned 10 minutes into the movie and is used at appropriate time. No surprises.

It really is a placeholder, a franchise promo so you don't forget for five minues it exists.

Is the plot relevant? No. Is the action engaging? Somewhat. Are the characters immersive? No.

Listen, Resident Evil is here a long time and when you look at it, starting from the first game there is something Resident Evil almost every year since - so I'm not expecting someting mind blowing, given the way whole franchise jumped the shark multiple times during these almost 30 years. But, I'm still hoping to see one solid, good RE movie or at least above average animated feature. And it's just not coming.

Could you watch this? Sure. Should you watch this? Maybe, it's your time, do with it what you will but don't expect top tier horror animated action movie. It is schlock with dumb script and it looks good.

Info Blu-ray
Video
Codec: HEVC / H.265
Resolution: 4K (2160p)
HDR: Dolby Vision, HDR10
Aspect ratio: 2.00:1
Original aspect ratio: 2.00:1

Audio
English: Dolby TrueHD with Dolby Atmos 7.1 (48kHz, 24-bit)
English: Dolby Digital 5.1

Subtitles
English SDH, Arabic, Chinese (Simplified), Chinese (Traditional), Danish, Dutch, Estonian, Finnish, French (Parisian), Italian, Korean, Latvian, Lithuanian, Norwegian, Portuguese (Iberian), Spanish (Castilian), Spanish (Latin American), Swedish, Thai.
File size: 37.72 GB
Is Link Dead? Let us know and we'll replace the link.
Report
We now have
Telegram, get notified of new releases 4K movies!
Watch the movie trailer Resident Evil: Death Island 4K 2023
Related 4K movies