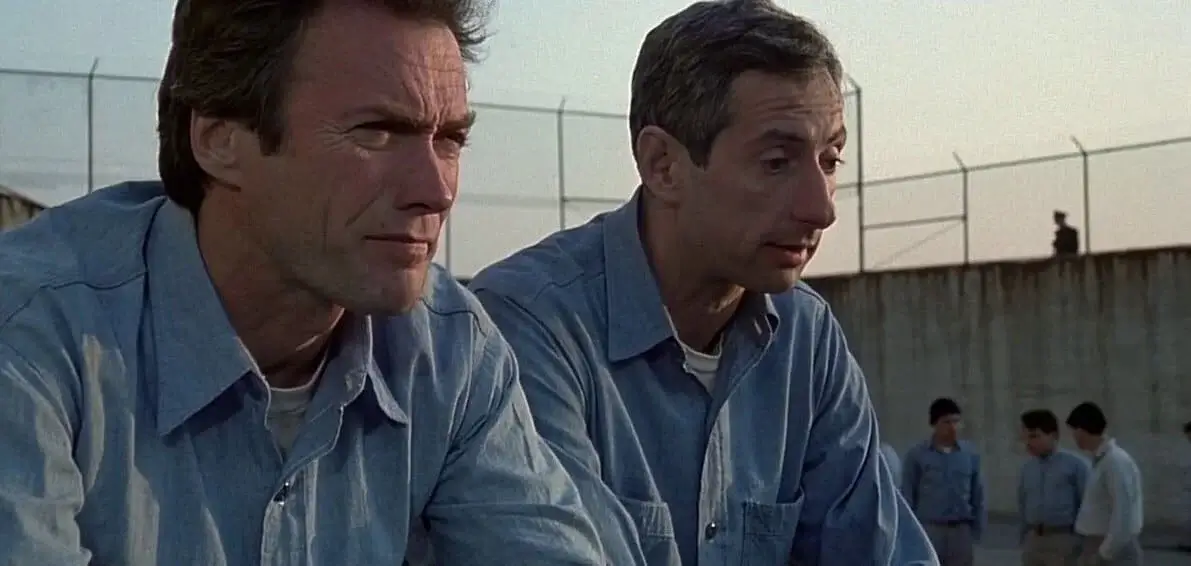 Escape from Alcatraz 4K 1979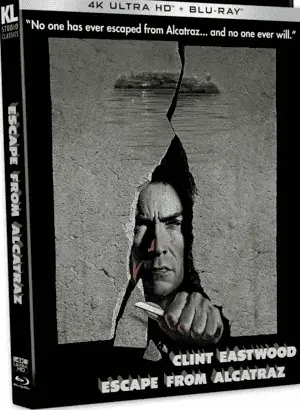 Escape from Alcatraz 4K 1979
Cast:
Clint Eastwood, Patrick McGoohan, Roberts Blossom, Jack Thibeau, Fred Ward, Paul Benjamin, Larry Hankin, Bruce M. Fischer, Frank Ronzio, Fred Stuthman, David Cryer, Madison Arnold, Blair Burrows, Bob Balhatchet, Matthew Locricchio, Don Michaelian, Ray K. Goman, Jason Ronard.
IMDB 7.6
File Size: 74.65 GB
Film Description
Recidivist Frank Morris is transferred to the high-security prison-island of Alcatraz. He had previously escaped from several other prisons. Noticing that the newcomer has a high IQ on the questionnaire, on his first day he is summoned by the warden and warned that it is impossible to escape from his institution, but Frank does not think so.

User Review
Alcatraz is an island in the U.S. state of California, San Francisco Bay, used as a military prison and then as an ultra-secure prison for extremely dangerous criminals. There is only one known case of successful escape in its history, that of Frank Morris, an American bank robber, along with brothers John and Clarence Anglin, on June 11, 1962.

The plot was based on the story of this particular amazing, puzzling and elaborate escape. Frank Morris, who was serving a life sentence in The Rock, was thought to have authored it.

Frank Morris - born September 1, 1926, in Washington, D.C. Committed his first crime at the age of 13. For his colorful list of offenses, ranging from drug use to armed robbery, he has spent time in various prisons across America. He repeatedly escaped from them due to his high level of intelligence (his IQ was 133). After his escape from Alcatraz on June 11, 1962, he was officially considered missing.

The role of Frank Morris was played in the film by Clint Eastwood. I consider Eastwood's choice for the role of the main character to be a good one. Because the charisma and exceptional acting ability of this man allowed him to fit quite well into the image of his character and make it interesting and exemplary for the audience.

It took his character seven months to prepare for his escape. Director Don Siegel, of course, reduced the seven months to two hours, creating a great atmosphere in the film. Segel masterfully shows the plot development, bringing us into the plot at the beginning and the environment of what happens and gradually, closer to the end, heating up the atmosphere of the escape to the limit, creating it with masterly logic chain which we follow from the start to the end together with the main characters, getting the feeling of making the escape and frantically trying to leave so tiresome walls of Alcatraz.

Among the films on the subject 'Escape from Alcatraz' is certainly one of the best, because it's based on a fascinating, interesting and real story, which you won't see anywhere else.

Info Blu-ray
Video
Codec: HEVC / H.265 (88.0 Mb/s)
Resolution: Native 4K (2160p)
HDR: Dolby Vision, HDR10
Aspect ratio: 1.85:1
Original aspect ratio: 1.85:1

Audio
English: DTS-HD Master Audio 5.1 (48kHz, 24-bit)
English: DTS-HD Master Audio 2.0 (48kHz, 24-bit)
English: Dolby Digital 5.1

Subtitles
English SDH.
File size: 74.65 GB
Is Link Dead? Let us know and we'll replace the link.
Report
We now have
Telegram, get notified of new releases 4K movies!
Watch the movie trailer Escape from Alcatraz 4K 1979
Related 4K movies