Hugo 4K 2011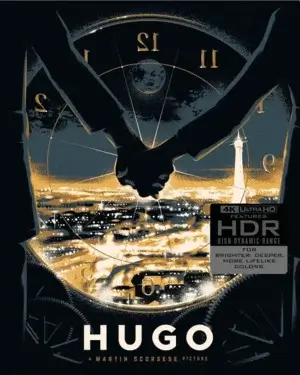 Hugo 4K 2011
Producer:
Martin Scorsese
Cast:
Asa Butterfield, Chloë Grace Moretz, Christopher Lee, Ben Kingsley, Sacha Baron Cohen, Ray Winstone, Emily Mortimer, Helen McCrory, Michael Stuhlbarg, Frances de la Tour, Richard Griffiths, Jude Law, Kevin Eldon, Gulliver McGrath, Shaun Aylward, Emil Lager, Angus Barnett, Edmund Kingsley.
IMDB 7.5
File Size: 81.10 GB
Film Description
After the agile and resourceful Hugo manages to uncover the secret of a mysterious mechanism left behind by his dead father, he embarks on a journey that will change those around him and lead to a safe and beautiful place he will call home.

4k movies reviews
Who would have thought that Martin Scorsese is not immune to sentimentalism. But that's not a bad thing... It's masterful. It's magical. The movie 'Hugo' is the fulfillment of a childhood dream of a kid named Marty who looks at the world through the lens of a camera.

Once upon a time, there was a boy named Hugo Cabret. He had a father, but he died suddenly. And Hugo was lonely, until the mystery of his parent opened the way forward.... This is how the viewer discovers the forgotten Neverland in France. The beginning of the movie is rather pessimistic: an orphan boy, a cruel Inspector of the station, a cold and sullen owner of a magic shop. But as in all fairy tales everything is interconnected. A riddle leads to a search, a search leads to adventure, adventure leads to answers and the answers give everything. By 'everything' there is goodness, sadness, love and of course the dreams you live for. I can write so long, because it is impossible to adequately characterize what Scorsese shot. Therefore, I will analyze the creators of this creation.

Martin Scorsese in this movie is strangely similar to Tim Burton and Robert Zemeckis. But if the first began to exploit Helena Bonham Carter and Johnny Depp (he is the producer of 'Hugo'), and the second made a bump the size of Everest because of motion capture, the Italian-American director took the best from them. You will probably twist your finger, but the director took a lot from Chris Nolan's Prestige and Woody Allen's Midnight in Paris. I compared The Prestige and Hugo because both movies are about cinematography, about visual deception, where the trick and its secret is more important than the truth. For Scorsese this was very important (the director can even be seen in the movie in a cameo role as a photographer). And 'Midnight in Paris' was remembered because of the Paris of the 40s itself (in 'Hugo' it is a truly magical and beautiful city). Martin showed himself not as the successor of Hitchcock or Francis Ford Coppola, but as the successor of a slightly grown up Peter Pan and it looks very cool!

And now the cast... Chloë Grace Moretz is habitually masterful. Asa Butterfield is not only not annoying, but pleasantly surprised by the sincerity, purity and openness of her character. But for some reason, Hugo is a bit like Frodo from Lord of the Rings. There's also some nice childlike chemistry between these characters that shines through. Ben Kingsley played, in a way, Scorsese himself. A magician who has lost faith in the wonders of cinema and is stuck in a cage of darkness and realism (and the current movie industry is just filled with 'darker, more realistic' movies) suddenly rediscovers the path to magic and childhood. Beautifully acted. Sacha Baron Cohen played a kind of Carabas Barabas with a humanity trapped but waiting to break free. A typical fairy tale villain. Jude Law appears rarely little, although the role of a kind, sweet and sympathetic (it is for girls) father succeeded. Richard Griffiths (Vernon Dursle from 'Potter') and the 'Great and Good' Christopher Lee (you'll see why 'good') make a welcome appearance.

Howard Shore's music is very kind and sweet. Even John Williams would envy such a cacophony of sounds.

In terms of sets and special effects, you can see where the 170 million dollars went. Everything is done at the highest level. And Robert Richardson's camerawork turns it all into an extraordinary visual.

This really is Marty's 'The Prestige', where it's not the brutal and unpleasant truth of the stunt that matters, but the stunt itself that brings magic to reality. Dreams, dreams, dreams.... The world is dull without them. Bring a little miracle to reality by watching this movie.

Info Blu-ray
Video
Codec: HEVC / H.265 (86.1 Mb/s)
Resolution: Upscaled 4K (2160p)
HDR: Dolby Vision, HDR10
Aspect ratio: 1.78:1
Original aspect ratio: 1.85:1

Audio
English: DTS-HD Master Audio 7.1 (48kHz, 24-bit)

Subtitles
English (SDH), Arabic, Bulgarian, Cantonese (Traditional), Mandarin (Simplified), Mandarin (Traditional), Croatian, Czech, Danish, Dutch, Estonian, Finnish, French, French (Canadian), German, Greek, Hebrew, Hindi, Hungarian, Icelandic, Indonesian, Korean, Latvian, Lithuanian, Malay, Norwegian, Polish, Portuguese (Brazilian), Portuguese (Portuguese), Romanian, Russian, Serbian, Slovak, Slovenian, Spanish (Castilian), Spanish (Latin American), Swedish, Turkish, Ukrainian.
File size: 81.10 GB
Is Link Dead? Let us know and we'll replace the link.
Report
We now have
Telegram, get notified of new releases 4K movies!
Watch the movie trailer Hugo 4K 2011
Related 4K movies