Shazam! Fury of the Gods 4K 2023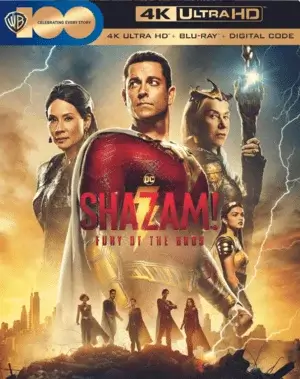 Shazam! Fury of the Gods 4K 2023
Producer:
David F. Sandberg
Cast:
Zachary Levi, Asher Angel, Jack Dylan Grazer, Rachel Zegler, Adam Brody, Ross Butler, D.J. Cotrona, Grace Caroline Currey, Meagan Good, Lucy Liu, Djimon Hounsou, Helen Mirren, Faithe Herman, Ian Chen, Jovan Armand, Marta Milans, Cooper Andrews, Rizwan Manji.
IMDB 6.0
File Size: 62.77 GB
Film Description
Billy Batson, 17, given the gift of turning into a superhero in his forties, guards the peace of Philadelphia with his adopted siblings, with whom he has shared his superpowers. Due to their youth and lack of discipline, not everything works out perfectly, and the press calls the superhero team the "Philadelphia Fiascos." Meanwhile, two women posing as the daughters of the titan Atlanta steal a magic wand broken in half from a Greek museum and head to Philadelphia to take away the superheroes' magical powers.

4k movies reviews
So, I watched the second part of this movie. I'll tell you right away that I wasn't thrilled with the first part either, so I didn't expect much from the second part, and even with low expectations, it was still boring to watch. Why do comic books stick in your heart? Because you can either see some problems close to you or see the resolution of some more complicated questions (whether it's acceptable to have vigilantes outside the law who do 'justice', that the world is not black and white, but many shades of gray, so the division into 'Good' and 'Evil' is conditional, etc.).

Here, on the other hand, the plot is super banal, there are heroes, there are villains, you can predict in advance who will win in the struggle between Good and Evil. It seems to be the plot of almost any movie, but in this film there is not even an attempt to play it off in any interesting way. Briefly the plot is that the offended gods were able to break out of their imprisonment, they are angry at the world because their world was once destroyed. They need a certain artifact to revive their reality + an element of revenge. The plan doesn't go perfectly because they are hindered by the heroes, and the villains have certain differences of opinion.

It feels like they didn't even want to spend more than 5 minutes on the script. There's constantly something happening on the screen, and that's supposed to distract from the super boring script. The characters aren't really revealed, so you don't really empathize with anyone. Really, it becomes indifferent to what happens and to whom. There is an attempt to bring up the problem of family and some children's problems, but even in Forsage this problem is better revealed (and to my mind the film laughs at itself, because there is even a joke about it).

Besides, now that there are more superheroes-chasms, there should at least be an attempt to explain the role and importance of each for the plot, but in fact almost half of the 'chasms' can be removed and it will not affect the plot globally. There are some attempts at jokes, but mostly unsuccessful.

Perhaps the movie is intended more for children, who could be carried away by the more or less beautiful picture and the struggle between Good and Evil.

Info Blu-ray
Video
Codec: HEVC / H.265 (58.8 Mb/s)
Resolution: Native 4K (2160p)
HDR: Dolby Vision, HDR10
Aspect ratio: 2.39:1
Original aspect ratio: 2.39:1

Audio
English: Dolby TrueHD with Dolby Atmos 7.1 (48kHz, 24-bit)
English: DTS-HD Master Audio 7.1 (48kHz, 24-bit)
English: Dolby Digital 5.1
English: Dolby Digital 2.0
French: Dolby Digital 5.1
Spanish (Latino): Dolby Digital 5.1

Subtitles
English SDH, French, Spanish, Danish, Finnish, Norwegian, Swedish.
File size: 62.77 GB
Is Link Dead? Let us know and we'll replace the link.
Report
We now have
Telegram, get notified of new releases 4K movies!
Watch the movie trailer Shazam! Fury of the Gods 4K 2023
Related 4K movies