Ponniyin Selvan: Part One 4K 2022 WEB-DL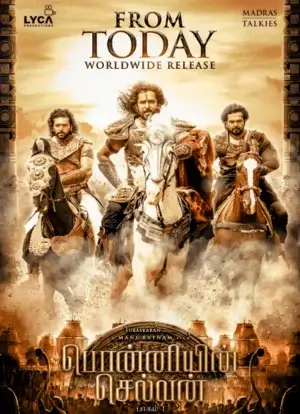 Ponniyin Selvan: Part One 4K 2022 WEB-DL
Cast:
Vikram, Karthi, Jayam Ravi, Aishwarya Rai Bachchan, Trisha Krishnan, Sobhita Dhulipala, Aishwarya Lekshmi, Jayaram, Vikram Prabhu, Ashwin Kakumanu, Sarath Kumar, Parthiban Radhakrishnan, Prabhu, Prakash Raj, Lal, Aswin Rao, Nizhalgal Ravi, Nassar.
IMDB 8.0
File Size: 14.52 GB
Film Description
Vandiyathevan sets out to cross the Chola land to deliver a message from the Crown Prince Aditha Karikalan. Kundavai attempts to establish political peace as vassals and petty chieftains plot against the throne. Unrest grips the land as a long-tailed comet arrives, signalling a time of turmoil.

4k movies reviews
This review is a personal opinion of one person.

There types of audience in the country.

1 - Who read the books, 2 - who didn't, 3 - who knows the history of Chola Kings.

The books were written 70 years back based on the characters and insidents of the chola kingdom in the format of a serial for a magazine, It has some fictional characters and drama for the intrigue.

The Movie Screenplay is adapted from the books with all the necessary changes to appeal today's audience, Just like "Lord of the Rings, Harry Potter and Game of Thrones".

But the above mentioned books happen in fantacy world with miracles and non human characters.

Ponniyin Selvan is real Historical fiction.

The screenplay written by Maniratnam, Jaya Mohan and Kumarvel is flat and confusing for the two part movie. It felt like a rushed 8 episode tv show re-edited into a 2 part movie.

It is very different from Bahubali.

All actors did great.

Vikram as Aditha Karikalan is completely flawed,

Trisha as Kundhavai is unbelievably phenomenal.

Aishwarya Rai and Karthi get to Play the most interesting characters in the movie.

Aish looks convincing as nandini but a bit older and her performance is also okay, but it should have been extraordinary.

Karthi is not my Vanthiyadevan

Jayam Ravi as Arun Moli Varman is a surprise.. His performance is very good, but looks wise i was disopointed in the start but by the end of the movie I accepted him.

Same with Aishwarya laksmi (most of her scenes from the book are missing)as Poongulali and Prakash raj as Sundara Chola is a missfit.

Jayaram as Nambi is fantastic.

Sharath kumar, Parthiban, Kishore, Mohan Raman, Prabhu, Rahman, and Jayachitra are perfectly cast.

Shobitha as Vanathi looks very artificial, her dancing skills are good though.

The locations are very real and exotic, All the sets and props takes us back to the 10th century.

Costumes, Accesories and makeup made us forget the actors and see the real cholas.

We can't find the difference between vfx and reality in many scenes.

Sfx are as good as possible.

Music is great with the mood of the film, the songs are also okay with the flow exept "chola chola" song but "ponni nadhi and alai kadal" are good for your playlist.

Cinematography is at its best, Ravi Varman created world class visuals.

Its better if they re-edit the film and release it in ott as a mini series with eight 1hr episodes.
File size: 14.52 GB
4K-HD.CLUB
Download
from TakeFile
We now have
Telegram, get notified of new releases 4K movies!
Watch the movie trailer Ponniyin Selvan: Part One 4K 2022 WEB-DL
Related 4K movies
Do you enjoy downloading from TakeFile?