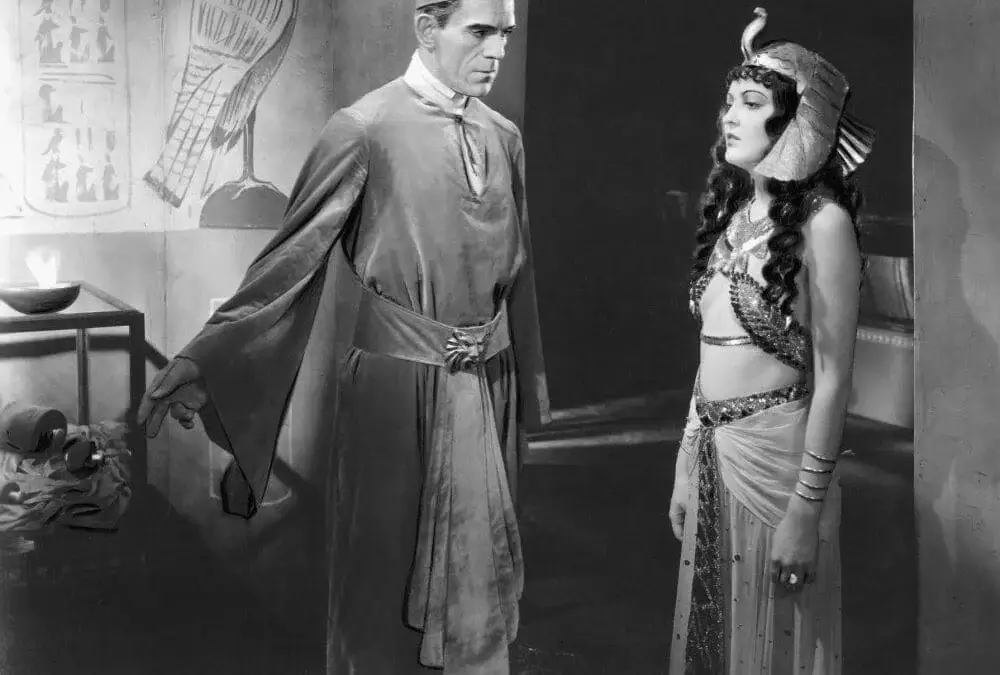 The Mummy 4K 1932
The Mummy 4K 1932
Cast:
Boris Karloff, Zita Johann, David Manners, Arthur Byron, Edward Van Sloan, Bramwell Fletcher, Noble Johnson, Kathryn Byron, Leonard Mudie, James Crane, Henry Victor, Arnold Gray, Florence Britton, Jack Deery, Bill Elliott, Leyland Hodgson, Eddie Kane, Tony Marlow.
IMDB 7.0
File Size: 41.34 GB
Film Description
The Egyptian priest Imhotep comes back to life 3700 years after his death. Meeting an Englishwoman, Helen Grosvenor, he recognizes her as a priestess who also lived almost forty centuries ago...

4k movies reviews
A popular motion picture of its time, which generated a mass interest in films about various mummies of Ancient Egypt, and not only. Naturally, The Mummy from 1932 is one of Universal Studios' legendary classic horror films. And, of course, it is a noteworthy work that you simply can't help but become familiar with.

An archaeological expedition from the British Museum in 1921 discovers a sarcophagus in Egypt with a mummy of the priest Imhotep and a closed box with a warning of damnation written on it to whoever opens it. But archaeologists ignore this inscription and open the box. It turns out to be sufficient only to read some of the text from the papyrus there, and the mummy comes to life. The curse comes true and the person who opens the box goes mad. In 1932, another expedition from the British Museum finds the tomb of Princess Anxenamun, and the archaeologists send it to the Cairo Museum. Imhotep, posing as a local wealthy amateur historian, reads a spell to revive the princess, but the spell is answered by Helen, daughter of the governor of Sudan. Eventually, the Egyptian priest recognizes in Helen the new incarnation of the princess and tries to possess her mind.

Such a convoluted plot turns out to be quite multifaceted. In the first half of the film there is a little bit of an atmosphere of fear, but it changes at times to the conversations of the characters. And that is why the atmosphere of the whole movie looks not so scary. In front of us is another movie to watch just because of the classic title. Carl Freund, for whom this film turned out to be his directorial debut, did not make anything really worthwhile, but only added yet another strange picture to the cinematography. By the way, I unexpectedly liked the acting of Boris Karloff. He played better than he did in the film that brought him fame, Frankenstein.

Info Blu-ray
Video
Codec: HEVC / H.265 (76.3 Mb/s)
Resolution: Native 4K (2160p)
HDR: HDR10
Aspect ratio: 1.37:1
Original aspect ratio: 1.37:1

Audio
English: DTS-HD Master Audio 2.0 Mono (48kHz, 24-bit)
English: Dolby Digital 2.0
French: DTS 2.0 Mono
German: DTS 2.0
Italian: DTS 2.0

Subtitles
English SDH, French, German, Italian, Japanese, Spanish, Danish, Dutch, Finnish, Norwegian, Swedish.




File size: 41.34 GB
Is Link Dead? Let us know and we'll replace the link.
Report
We now have
Telegram, get notified of new releases 4K movies!
Watch the movie trailer The Mummy 4K 1932
Related 4K movies
What genre of 4K movies do you prefer?