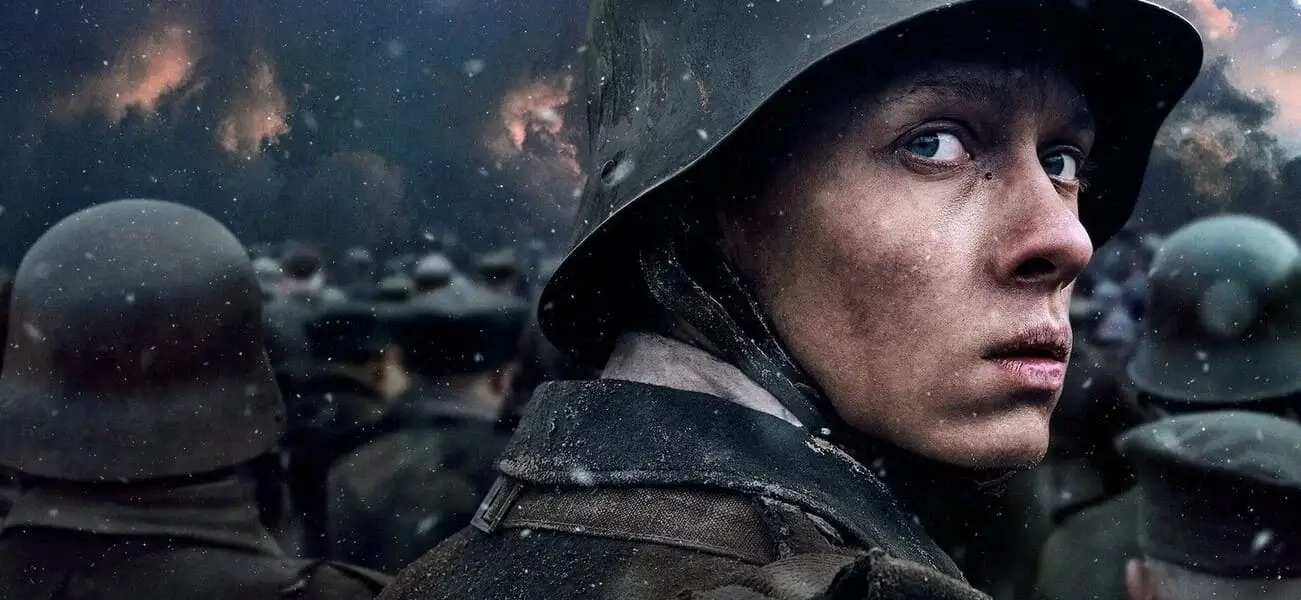 All Quiet on the Western Front 4K 2022 GERMAN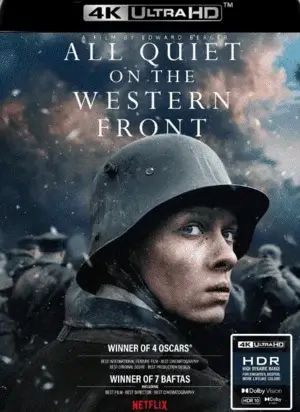 All Quiet on the Western Front 4K 2022 GERMAN
Cast:
Felix Kammerer, Albrecht Schuch, Aaron Hilmer, Moritz Klaus, Adrian Grünewald, Edin Hasanovic, Daniel Brühl, Thibault de Montalembert, Devid Striesow, Andreas Döhler, Sebastian Hülk, Luc Feit, Michael Wittenborn, Michael Stange, Sascha Nathan, Tobias Langhoff, Anton von Lucke, Michael Pitthan.
IMDB 7.8
File Size: 85.39 GB
Film Description
The German Empire, 1917. The patriotic 19-year-old Paul Boehmer and his classmates volunteer for the front, where they will experience the horrors of World War I.

4k movies reviews
Remarque's book is one of my favorite works, which is why I was very prejudiced and intuitive while watching it.

The cast is very good and I can even say that I imagined the characters of the novel to be like that - you can feel the German pedantry. And by the way, remembering that the director has made 'Germany 83' before, I was not surprised - he keeps up the mark. A special tribute to Brul, he is excellent as always, but I do not know why I needed his character (about that later).

Visually, everything is at an excellent level. The nature, the battle scenes, and the destructive power of war were shown to us beautifully. But, we did not see any new words in the battle genre from the authors.

Now for the most important thing - the content. Remarque's anti-war message in the film, but the authors have only transferred it in their own way. Many moments were removed: for example, the episode when Paul guards the captive Russian soldiers. He is very strong, but in the film it is not present and nothing equivalent to it was not given to us. Yes, it shows how a man begins to behave at war when his life is threatened every second and he is capable of turning into a machine that only knows how to shoot.

A separate question - why do we need a second line with negotiations (this is not a SPOILER - it was in the trailer)? Why? A kind of history lesson? Well, somehow weak and unconvincing. And there is an excellent source, which in view of this motif was very decently neutered and in addition to the scene with the prisoners there was a lot of interesting and important from a philosophical point of view. It is a crime not to convey Remarque's message.

And we were thrown a tank attack (again, not a spoiler, because it was in the trailer) with a gape, when after blowing up the track it remains tselihonenkoy in the next frame and the subsequent banality in the form of blowing up flamethrowers. I am now silent that what is shown in the episode is not very friendly with the historical materials, the question is different - in the work of such a riot and bacchanalia on the battlefield was not. This again is the desire to make an attraction for the younger generation? If so - that's a minus to the authors.

As a result we are facing a war drama, maybe not bad, but worthy only for a single viewing. It did not gather heaven from stars, but I will not say that it is a failure. In terms of the work, my advice is simple - watch the previous ones. They are much closer to the truth. And for those who do not like passable screenings and at all I advise not to waste your time.

Info Blu-ray
Video
Codec: HEVC / H.265 (66.9 Mb/s)
Resolution: Native 4K (2160p)
HDR: Dolby Vision, HDR10
Aspect ratio: 2.39:1
Original aspect ratio: 2.39:1

Audio
German: Dolby TrueHD with Dolby Atmos 7.1 (48kHz, 24-bit)
German: DTS-HD Master Audio 7.1 (48kHz, 24-bit)
German: Dolby Digital 5.1
German: Dolby Digital 2.0
English: DTS-HD Master Audio 5.1 (48kHz, 16-bit)
English: Dolby Digital 5.1
English: Dolby Digital 2.0
French: Dolby Digital 5.1
French: Dolby Digital 2.0
Spanish (Latino): Dolby Digital 5.1
Spanish: Dolby Digital 5.1
Spanish: Dolby Digital 2.0
Italian: Dolby Digital 5.1 (448 kbps)
Italian: Dolby Digital 2.0
Turkish: Dolby Digital 5.1
Polish: Dolby Digital 5.1 (448 kbps)
Ukrainian: Dolby Digital 5.1
Czech: Dolby Digital 5.1
Hungarian: Dolby Digital 5.1 (448 kbps)

Subtitles
English, English SDH, French, German, Italian, Portuguese, Spanish, Czech, Danish, Dutch, Finnish, Hungarian, Norwegian, Polish, Swedish, Turkish, Ukrainian.
File size: 85.39 GB
4K-HD.CLUB
Download
from TakeFile
We now have
Telegram, get notified of new releases 4K movies!
Watch the movie trailer All Quiet on the Western Front 4K 2022 GERMAN
Related 4K movies