Vesper 4K 2022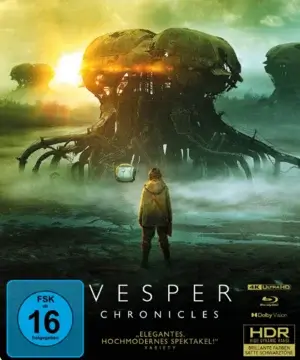 Vesper 4K 2022
Producer:
Kristina Buozyte, Bruno Samper
Cast:
Raffiella Chapman, Eddie Marsan, Rosy McEwen, Richard Brake, Melanie Gaydos, Edmund Dehn, Matvej Buravkov, Nojus Buslevicius, Marijus Demiskis, Markas Eimontas, Titas Rukas, Markas Sagaitis.
IMDB 6.0
File Size: 42.47 GB
Film Description
The Earth of the Future. Humanity is on the brink of extinction. Although technology has reached an incredibly high level, humans fight for life every day with nature, which has evolved and turned into a ruthless killer. It is up to 13-year-old girl Vesper to restore balance and shake the scales on which the fate of the human species rests.

4k movies reviews
The tale is about a young brat, Vesper, who is forced to survive in a world where humanity is on the brink of survival. Although technology has reached a high level, humans battle every day with an evolved nature that has turned into a ruthless killer. Her father is gravely ill and the only way to save him is to get to the Citadel, and Vesper is willing to do everything in her power to do so...

An indie sci-fi movie set in a kind of dystopian society. The surviving elite hide out in enclaves called Citadels, while the rest of the crew leads meager lives in the dilapidated remains of cities and settlements, fighting for their lives every day. Despite the small-budget project, the film is impressive in its visual effects, forest landscapes and detailed set designs.

The viewer should be prepared for the fact that the director would not go into details of what happened before, and simulates the situation here and now, based on the events occurring at the moment. Here we should also note Vesper's dramatic line, which is the engine of the story: her selfless attitude toward her father, her life filled with tragedy and experience, and her desire to get out of this sewer and change her fate.

The film is first and foremost for thoughtful viewing and reflection, there will be no fast-paced scenes or mind-blowing shootouts. But there will be food for thought, a cemented, hopeless atmosphere and hope for salvation wandering somewhere in the distance.

Moral: People in the Russian countryside are on the brink of survival all their lives and without the apocalypse.

The result is dystopian fiction with many parallels to the reality around us.

Info Blu-ray
Video
Codec: HEVC / H.265 (46.8 Mb/s)
Resolution: Native 4K (2160p)
HDR: HDR10
Aspect ratio: 2.40:1
Original aspect ratio: 2.39:1

Audio
German: Dolby TrueHD 7.1 (48kHz, 24-bit)
German: Dolby Digital 5.1
English: DTS-HD Master Audio 7.1 (48kHz, 16-bit)
English: Dolby Digital 5.1

Subtitles
English, English SDH, German.
File size: 42.47 GB
Is Link Dead? Let us know and we'll replace the link.
Report
We now have
Telegram, get notified of new releases 4K movies!
Watch the movie trailer Vesper 4K 2022
Related 4K movies