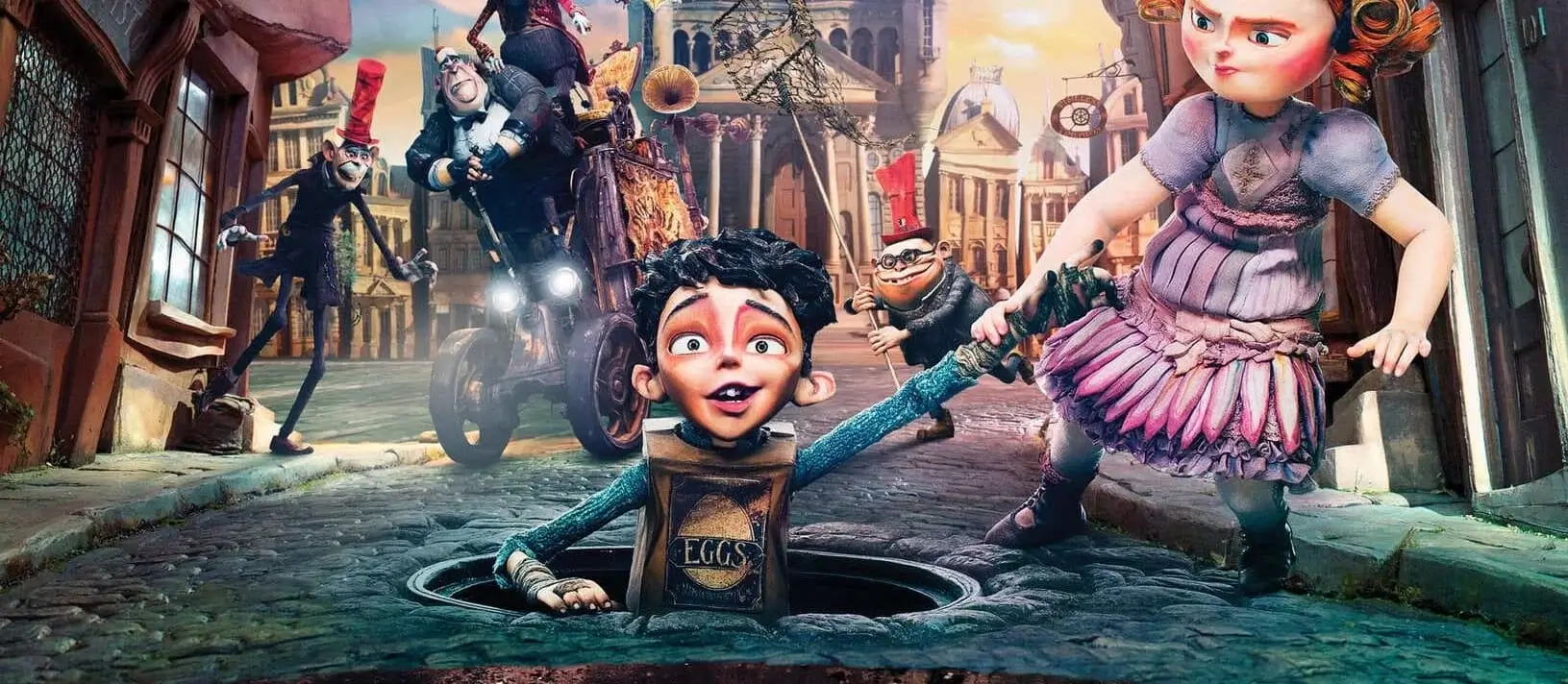 The Boxtrolls 4K 2014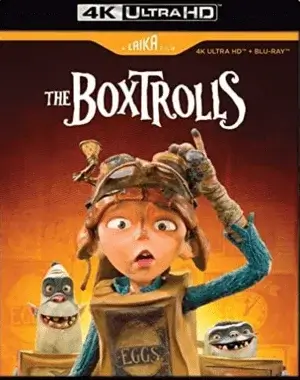 The Boxtrolls 4K 2014
Producer:
Graham Annable, Anthony Stacchi
Cast:
Ben Kingsley, Jared Harris, Nick Frost, Richard Ayoade, Steve Blum, Dee Bradley Baker, Max Mitchell, Tracy Morgan, Nika Futterman, Pat Fraley, Fred Tatasciore, Isaac Hempstead Wright, Elle Fanning, Maurice LaMarche, James Urbaniak, Brian George, Toni Collette, Simon Pegg.
IMDB 6.8
File Size: 66.32 GB
Film Description
Together with a family of funny monsters, an orphan boy lives in the underground catacombs. His clothes are now replaced by an ordinary box, but every night he can walk around the dark city and inspire fear in the ordinary inhabitants. One day the boy meets a charming little girl who will help the monsters cope with the evil aristocrat who has declared a hunt for them.

4k movies reviews
Childhood is a strange thing. More precisely, the attitude to it. After all, today's view of the child was formed not so long ago. A huge industry of services and goods only keeps on the "selectness" of children. And, of course, the movie could not stay away. But if the addressee is defined immediately and unmistakably for small jackets and interactive talking dogs, then with a movie or a book is not so simple. You buy a cute robot, on the box with which it says +3, so the kids are better not to give it in their hands. You take your 5 year old nephew to see a movie called "Monster Family" that's labeled +0 and you get a harsh, if not violent movie with an acute social message and an obvious anti-political bias.

As they say - "the school did not prepare me for this". Well, they did: there was also Chukovsky's "Tarakanishche" and Nosov's "Know-Nothing on the Moon" and even the magazine Murzilka, which had some of the most talented artists in it, partly because there was less censorship in the children's magazine. And if one follows this line of Soviet classics to the end, The Family of Monsters could be safely compared to Klimov's beautiful painting Welcome or No Trespassing allowed.

Children, thank God, do not read reviews, so I'll try to keep it adult. Straight to "The Gulag Archipelago. In one of the thousands of episodes, Solzhenitsyn describes the scene of the arrest of a woman. She was arrested right on the street. Classic-looking guys came up to her and asked her to pass ... But instead of obediently obeying, the woman began to shout, screaming and even clawed at a pole. Everything went so off script that the "comrades" were taken aback and even let the woman go. And although the book is replete with gruesome details it is this scene is firmly rooted in my mind.

Now next to it in my brain lies another. A huge press is about to crush the cute monsters, who are huddled in their boxes and, shaking with fear, waiting to die. And next to them, a brave boy sitting in a cage shouts slogans that can easily be heard at any opposition political rally. Almost directly, the film communicates to the viewer a simple and frightening message - "If you keep quiet, you will be destroyed."

Making a gloomy, but still nice world and at the same time admiring their heroes, the authors managed to show the most despicable representatives of modern society. After all, if you think about it, the movie only evokes sympathy for the main character, well, maybe two more philosophical henchmen of the villain. It is interesting to note that these characters are deluded (the boy as to his nature, the helpers as to what is good). They are looking for answers to the age-old questions - "Who am I?" and "What is the meaning of life?", all the other characters found those answers long ago. And even monsters, frankly, give rise to only pity in the soul.

But you don't want to feel pity for the inhabitants of a fairy-tale town, whom a clever swindler managed to frighten with a story about bloodthirsty night-robbers. He falsified the facts perfectly, set up propaganda, and even imposed a curfew. But the most spectacular for the crowd will always be the performance of a "star" who sings about scary child eaters. Here the crowd is already turned on, they raise their clenched fists in the air and are ready to tear apart not only the monsters, but also anyone who will stand up for them. It's terrifying, especially in 3-d!

The seemingly caricatured villain transforms into a clear portrait of an embittered commoner who is eager for power. Not even to power, but to its signs. They are valuable to him in and of themselves. Such characters abound in Gogol's works. There are plenty of petty officials who just want the order, sometimes for the sake of the order itself. But the antagonist in "The Family" is also interesting for another detail. Power kills him, literally. In the city of Syrburg, those in power eat cheese all the time and that, according to many, makes them aristocrats. Hvatkins (that's the villain's name) also eats cheese. Cheese, once in his system, causes fatal allergies, but Khvatkins seems not to notice. He stubbornly continues to eat this dairy product. A truly terrifying image of self-destruction. And it's not only scary sounding, but it also looks.

The aristocracy in the history of cinema has had its hands full often. And here "The Monster Family" follows a well-trodden and understandable path. Lack of pity for the common people, total incompetence and total sanctimony worthy of the Victorian era. Well, that the authors did not roll down to a simple denunciation and the main "correction". But I liked the decisions of the main female character better.

She is a spoiled and spoiled girl. If you take a good look at her, you can see her real motivation. Revenge on her father, an unhealthy interest in violence, and already some kind of unchildish passion for the strange boy from the dungeon--there are no noble motives here. This is not a sweet princess from a fairy tale, this girl can easily pretend to be a princess, but when necessary she will become a powerful queen.

That's how it turns out: a brutal and easily controllable crowd on one side, an overbearing madman with unlimited punitive powers on the other, an aristocracy indifferent to everything except their own person, aristocracy on the third, cowardly friends who keep quiet even if they are cut on the fourth and an angry but only helpful little companion on the fifth. I wouldn't want to be in the main character's shoes. And all that I have listed are not drawn out images, but real created characters and situations. The feeling that the authors decided to play with the dolls, but the life is real.

Of course, the white hat deserves a separate analysis. A sign of distinction and power, the ultimate dream of every self-respecting citizen. The hat is the beginning and the end of the movie. And it's good that the hat is radically reimagined at the end. It would be great to reflect on the, already mentioned here, the villain's assistants. Their stylish and postmodern conversations about good and evil would be good enough for a Tarantino movie, if they were stripped of their naivete and humor. Isn't this an intellectual verdict on a society that has long been so mixed up that thieves control budgets and goodness is enforced by bayonets? Orwell just begs to be heard: "Peace is war," "Truth is a lie." The father of the protagonist also deserves a line or two. But all of this is a lot and excessive, as, however, and the cartoon. Maybe - this is its only disadvantage and at the same time the only criterion that can be confidently attributed to children's cinema.

Info Blu-ray
Video
Codec: HEVC / H.265 (84.4 Mb/s)
Resolution: Native 4K (2160p)
HDR: Dolby Vision, HDR10
Aspect ratio: 1.78:1
Original aspect ratio: 1.85:1

Audio
English: Dolby TrueHD with Dolby Atmos 7.1 (48kHz, 24-bit)
English: DTS-HD Master Audio 7.1 (48kHz, 24-bit)
English: Dolby Digital 5.1
English: Dolby Digital 2.0
English: DTS 2.0
Spanish (Latino): DTS 5.1 (48kHz, 24-bit)
French: DTS 5.1 (48kHz, 24-bit)

Subtitles
English SDH, French, Spanish.
File size: 66.32 GB
4K-HD.CLUB
Download
from TakeFile
We now have
Telegram, get notified of new releases 4K movies!
Watch the movie trailer The Boxtrolls 4K 2014
Related 4K movies
Do you enjoy downloading from TakeFile?