Star Trek: Generations 4K 1994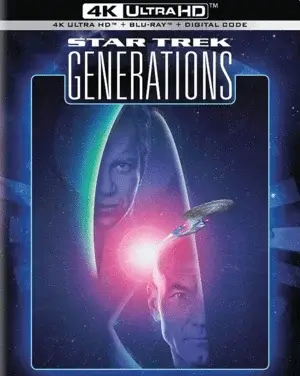 Star Trek: Generations 4K 1994
Cast:
Patrick Stewart, William Shatner, Malcolm McDowell, Jonathan Frakes, Brent Spiner, LeVar Burton, Michael Dorn, Gates McFadden, Marina Sirtis, James Doohan, Walter Koenig, Alan Ruck, Jacqueline Kim, Jenette Goldstein, Thomas Kopache, Glenn Morshower, Tim Russ, Tommy Hinkley.
IMDB 6.6
File Size: 55.04 GB
Film Description
Captain Kirk falls into a space vortex. Seventy-five years later, the descendants of the star travelers stumble upon the same vortex and encounter a madman, a destroyer, scouring the paths of the stars in search of immortality. Captain Picard gives up his own immortality for the sake of future generations and engages in mortal combat with the madman.

4k movies reviews
Star Trek is truly one of the significant cosmopera's that have influenced mass culture on a huge scale. It is one of those sagas that started something new not only in cinematography but also in literature. After seven solid seasons of success on television, it was decided, as with the original series, to continue the story of the crew of the starship Enterprise, but in a larger format and make a series of standalone films.

Star Trek 7:Generation has a special significance in the famous universe, because it is in this film that the two eras of the series intersect in the faces of the sensible Captain Jean-Luc Picard and the fearless Captain Kirk. And surely these two must save many lives.

Certainly this is the project that was bound to resonate with fans of the famous space opera in its day. Two of the most important captains of the series universe will find themselves side by side. The eternal controversy, who is better: Kirk or Picard for a time was really forgotten. But, nevertheless, in spite of a great move of the filmmakers to combine two of the most significant sides of 'Star Trek', the picture still has a little bit of a gray character.

David Carson, the director of this movie, is very well known in his circle as a creator of quite good TV pictures and some episodes of TV series. He so worked on several episodes of "Star Trek: The Next Generation" and even had his hand in another brainchild of the universe-"Star Trek: Deep Space 9.

Still, it was probably a mistake to let Carson make a film of this magnitude. Having worked mostly for TV, the director had failed to grasp the fact that this should not be seen as just another series of space opera. It should have been something epic, an over-the-top adventure combining the two 'paradoxes' of Kirk and Picard.

In the end, this very, very paradoxical tale of two captains looks rather boring. The idea is disassembled superficially, and the director does not make any emphasis on any particular aspect of his film. And unwittingly there is a feeling that 'Star Trek: Generation' is nothing more than a commercial experiment, quick, calculating and slick.

Another disadvantage of the picture is that it is still intended for a viewer, who is already quite familiar with the events of the series, which are connected. In order to understand all the drama of the events and not to consider them frank cosmic nonsense, the viewer should know at least a little about what happened before the events of the film. This error was present in other feature films about 'Star Trek'.The only one who has not yet sinned this blunder remains J.J. Abrams, who in 2009 'revives' the universe.

Despite the fact that all the same picture absolutely lost the spirit of a serial movie, the project still shines with interesting enough plot to open some secrets of the universe project, as well as pleases with an excellent acting in the face of Patrick Stewart and William Shatner, who had already grown old enough to shoot the movie, but, nevertheless, and as always, he plays Captain Kirk perfectly. The other actors in the movie are just as good, but the main attention was still focused on the two generations of captains.

In the end, the movie "Star Trek: Generations" cannot be called bad, because an experiment is always hard. It's the result that counts. And here we can say that it is not the best, but still not the worst, because after this experiment the universe of "Star Trek" will be widened by several more full-length works. But that is another story.

Info Blu-ray
Video
Codec: HEVC / H.265 (53.9 Mb/s)
Resolution: Native 4K (2160p)
HDR: Dolby Vision, HDR10
Aspect ratio: 2.39:1
Original aspect ratio: 2.39:1

Audio
English: Dolby TrueHD 7.1 (48kHz, 24-bit)
English: DTS-HD Master Audio 7.1
English: Dolby Digital 5.1
English: Dolby Digital 2.0
German: Dolby TrueHD 5.1
German: Dolby Digital 5.1
Spanish (Latino): Dolby Digital 5.1 (640 kbps)
French: Dolby Digital 5.1 (640 kbps)
Japanese: Dolby Digital 5.1

Subtitles
English, English SDH, French, German, Japanese, Spanish, Danish, Dutch, Finnish, Norwegian, Swedish.
File size: 55.04 GB
4K-HD.CLUB
Download
from TakeFile
We now have
Telegram, get notified of new releases 4K movies!
Watch the movie trailer Star Trek: Generations 4K 1994
Related 4K movies