Pumpkinhead 4K 1988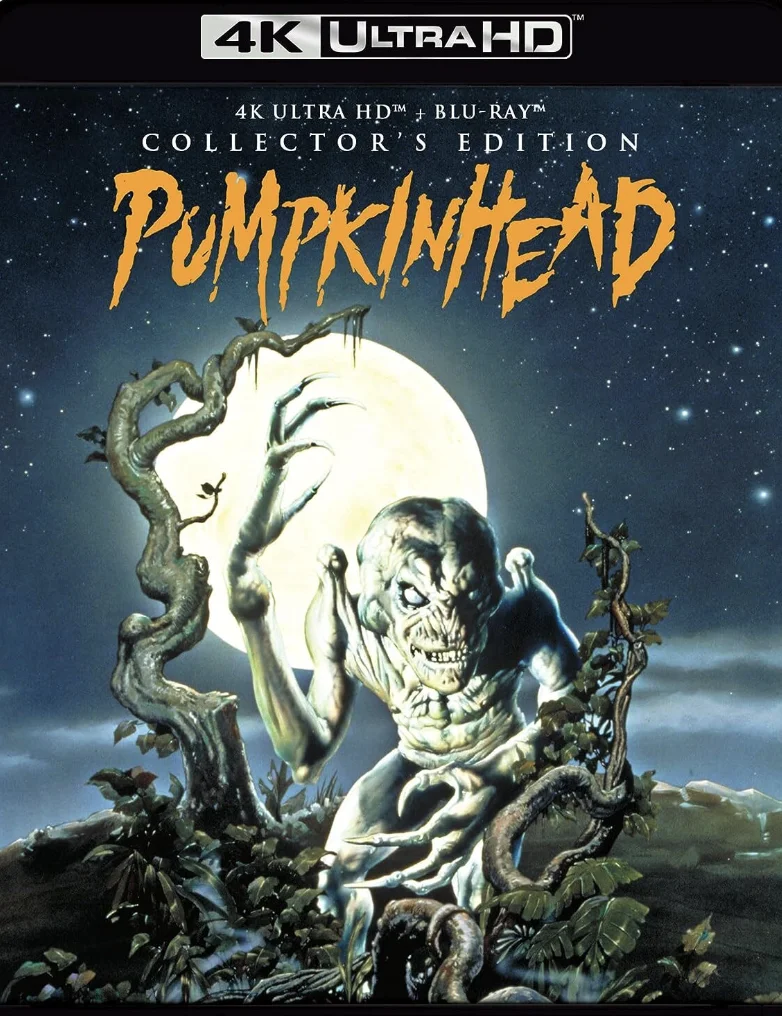 Pumpkinhead 4K 1988
Cast:
Lance Henriksen, Jeff East, John D'Aquino, Cynthia Bain, Kerry Remsen, Lee de Broux, Peggy Walton-Walker, Chance Michael Corbitt, Dick Warlock, Devon Odessa, Mayim Bialik, Tom Woodruff Jr., George Buck Flower, Kimberly Ross, Joel Hoffman
IMDB 6.2
File Size: 51.87 GB
Film Description
Pumpkinhead is a classic horror film from 1988, directed by the legendary special effects artist Stan Winston, who also co-wrote the story. The film tells the tale of Ed Harley, a grieving father who seeks revenge against the teenagers who accidentally killed his son. He enlists the help of a local witch, who summons a demonic creature called Pumpkinhead to hunt down and kill the culprits. However, Ed soon realizes that he has made a terrible mistake, as he shares a psychic bond with the monster and feels its pain and rage. He tries to stop the carnage, but it may be too late to save himself and the others from the wrath of Pumpkinhead.
Pumpkinhead is a cult favorite among horror fans, who appreciate its atmospheric and creepy setting, its impressive and practical creature effects, its emotional and moral themes, and its memorable performance by Lance Henriksen as Ed Harley. The film also features Jeff East, John D'Aquino, Kimberly Ross, Joel Hoffman, Cynthia Bain, and Florence Schauffler in supporting roles.
Pumpkinhead is now available in 4K Ultra HD from Scream Factory, who have scanned the original film element in high resolution and enhanced it with Dolby Vision and HDR10 for a stunning and immersive viewing experience. The 4K disc also features a DTS-HD Master Audio 5.1 track that delivers crisp and clear sound. The release also includes a Blu-ray disc with the same video and audio quality, as well as a wealth of bonus features, such as audio commentary, interviews, documentaries, behind-the-scenes footage, trailers, still gallery, and more. You can order the 4K Blu-ray Collector's Edition from the Scream Factory, or get the Best Buy exclusive steelbook version from the Best Buy. If you are a fan of horror movies, you don't want to miss this opportunity to watch Pumpkinhead in 4K Ultra HD. It will make you feel like you are in the middle of the action, and you will never forget the face of Pumpkinhead.
Or just download the 4k movie from us.
Info Blu-ray
Video
Codec: HEVC / H.265
Resolution: Native 4K (2160p)
HDR: Dolby Vision, HDR10
Aspect ratio: 1.85:1
Original aspect ratio: 1.85:1
Audio
#English: DTS-HD Master Audio 5.1 (48kHz, 24-bit)
#English: DTS-HD Master Audio 2.0 (48kHz, 24-bit)
Subtitles
English, English SDH, Bulgarian, Croatian, Finnish, French, Italian, Portuguese (BR),
File size: 51.87 GB
Is Link Dead? Let us know and we'll replace the link.
Report
We now have
Telegram, get notified of new releases 4K movies!
Watch the movie trailer Pumpkinhead 4K 1988
Related 4K movies
What genre of 4K movies do you prefer?