Fast X 4K 2023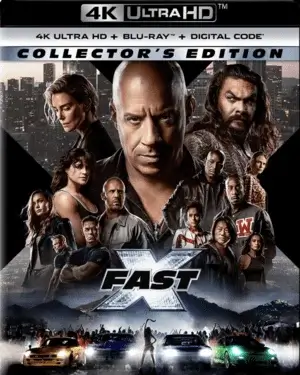 Fast X 4K 2023
Producer:
Louis Leterrier
Cast:
Vin Diesel, Michelle Rodriguez, Jason Statham, Jordana Brewster, Tyrese Gibson, Ludacris, Nathalie Emmanuel, Charlize Theron, John Cena, Sung Kang, Helen Mirren, Brie Larson, Scott Eastwood, Jason Momoa, Alan Ritchson, Luis Da Silva Jr., Daniela Melchior, Leo Abelo Perry.
IMDB 5.9
File Size: 61.66 GB
Film Description
10 years ago, Dominic and Brian robbed a Brazilian politician, businessman and drug lord Hernan Reyes, who chased after them and died. Now his son Dante is going to realize an insidious plan of revenge - not just to kill Dominic, but to make him suffer by killing his family.

4k movies reviews
Watching the next installment of 'Fast and Furious' in the hope of seeing something sane is like believing a drunken alcoholic that this time he's definitely off the wagon. Well, I did, more than once and more than twice. Probably because nostalgia is the strongest feeling. Stronger than love and hate. You see the familiar childhood credits of 'Fast And Furious' and you believe like a 13-year-old that something very cool is about to happen. That's what all the kids in class say. It's true that I'm already in my fourth decade, and after the ninth part I have no more faith in 'Fast And Furious' than in the domestic car industry. Still, let's answer the questions from the annoying advertising of the noughties: 'What? What if?

I'll tell you at once: Dominic Toretto does not go to the past driving a black 'Dodge Charger'. And he's not chasing dinosaurs either. True, the dead do come back to life, but I won't spoil it. But the family... It's looking more and more like a big gypsy tabor. In the tenth movie, there are VERY many secondary characters who appear for a couple minutes. But they're all the Holy Family: Dominic's grandmother, Mr. Nobody's daughter, Elena Nieves' sister, Deckard Shaw's mom, etc. etc. etc. Why are they all here? I never realized what all these pointless cameos gave to the plot. You should have never seen those extras! They would have been better off giving even more time to Dante Reyes played by Jason Momoa!

Heck, I never expected Vin Diesel to let someone overshadow his own ego in his favorite brainchild. And Momoa did it with one left! It's been a long time since I've seen such a delightful villain: crooked as Heath Ledger's Joker and charming as Tom Hiddleston's Loki. A pompous and mannered metrosexual, a vile psychopath, a devilishly attractive sadist and an evil genius all in one. You'd be hard-pressed to find an antagonist like him. And how much better he looks against Sca-- I mean Diesel. He was and still is a stone, occasionally spewing out pathos quotes about family. And his main advantage - the ability to move in space with his invariable iron horse (eh, how many he has already beaten for these 22 years?) almost at the speed of light.

I'll say more: Dominic Toretto was pushed not to the second plan, but almost to the steam... the junkyard. His prodigal brother Jacob (John Cena) actually showed that a healthy jock wrestler can be a very good actor. The chemistry between uncle and nephew is orders of magnitude stronger than that between father and son, no matter how hard Dom tries to teach his son the basics of street racing. Perhaps the second discovery of the tenth 'Fast and Furious' is the very strong tandem between Jacob and Brian. In fact, if I were the head of the family, I'd think hard: is this my son? He looks like he's more like his mom was having an affair with Roman. Speaking of the latter. He not only generates jokes for 300, but also closes his gestalt of becoming a 'Super-Alpha'. Not much to say about the others, though. We've got another unusual duo coming up - Letty and... potentially another member of the Family, which like a black hole is swallowing good and bad, good and evil. One wonders who will be the next to be imbued with Dominic Toretto's family values in the eleventh movie.

You know what's missing from this movie? You'll never guess (Dante laughs off-screen). Racing! Yes, yes! There's not a lot of actual racing in Fast and Furious! Only three races in two and a half hours! That is, the Family members will spend half an hour or less behind the wheel of the cars. I must say that the races turned out to be impressive, much better than the last part, but ... I think I'm having déjà vu: trying to harpoon a car, faith's jump from a steep precipice, driving through a tunnel, throwing heavy objects tied with a cable.... Hmm, I think we've seen this somewhere before. Like the favelas of Rio de Janeiro, the dark alleys of London, the palm trees of California, the highway between the rocks.... We can say that these are references to the previous films, or maybe it's just self-repeating, because the tenth film almost doesn't reveal any new bright locations. Except one. Well you have already seen it in the trailer.

And what takes up the rest of the time? Well, first of all, fights. There's a lot of them, like in a good Asian action movie. More and more family members reveal their hidden talents to beat up armed special forces in full dress uniform. Whether you're a hacker or a housewife, if you're imbued with Dominic Toretto's family values, you'll get 100 xp to your punching power. Works like a charm. Ask Mia Tor-- O'Connor. Speaking of Paul Walker. You won't see anything new with the late actor. Maybe it's for the best.

Secondly, there is a lot of dialogs and just chatter, not always necessary. On the one hand, we will see new facets of old characters and a little bit of drug addiction (if by the latter we don't mean the plots of all the movies in the series, starting from the fourth one). However, the constant switching between different storylines of characters scattered around the globe quickly gets boring. After all, the plot is practically in place! And it is understandable: after all, 'the last race is just beginning'. There are two more movies ahead of us, so we have to make time. Which Louis Leterrier's team is successfully doing.

The new "Fast and Furious" still managed to fail. And where no one expected it - in special effects. Budget of 340 million dollars? I wonder how much of it went to Vin Diesel's bald head? Because the movie doesn't look like that amount. More and more stunts are done against a green screen, and it's conspicuous. It's even a bit of a shame, because 'Fast and Furious', even in its late hypostasis, bribed with live, naturalistic pictures of accidents and destruction. Now they are less and less. Although I would not say that the degree of inadequacy is so high. Rather, it has rolled back to the level of the sixth movie. It's still nonsense, but the feeling that the writers have smoked all the weed in Chu Valley is gone. And that's more of a plus than a minus.

And you know, I'm giving 'Fast and Furious' another chance. I will still watch it, because nostalgia is a terrible thing.

Info Blu-ray
Video
Codec: HEVC / H.265 (57.0 Mb/s)
Resolution: Upscaled 4K (2160p)
HDR: Dolby Vision, HDR10
Aspect ratio: 2.39:1
Original aspect ratio: 2.39:1

Audio
English: Dolby TrueHD with Dolby Atmos 7.1 (48kHz, 24-bit)
English: Dolby Digital 5.1
English: Dolby Digital 2.0
Italian: Dolby Digital 5.1
Spanish (Latino): Dolby Digital 5.1
Hindi: Dolby Digital Plus 5.1

Subtitles
English SDH, French, Spanish, Italian.
File size: 61.66 GB
Is Link Dead? Let us know and we'll replace the link.
Report
We now have
Telegram, get notified of new releases 4K movies!
Watch the movie trailer Fast X 4K 2023
Related 4K movies