Halloween Ends 4K 2022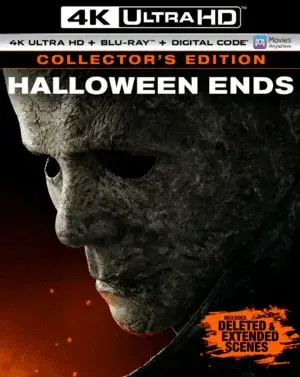 Halloween Ends 4K 2022
Producer:
David Gordon Green
Cast:
Jamie Lee Curtis, Andi Matichak, James Jude Courtney, Rohan Campbell, Will Patton, Jesse C. Boyd, Michael Barbieri, Destiny Mone, Joey Harris, Marteen, Joanne Baron, Rick Moose, Michele Dawson, Keraun Harris, Kyle Richards, Michael O'Leary, Jaxon Goldenberg, Candice Rose.
IMDB 5.8
File Size: 65.64 GB
Film Description
Four years have passed since the last attack by the maniac Michael Myers on the residents of the town of Haddonfield. Since the death of her daughter, Laurie Stode has been living with her granddaughter Alison, writing a book and trying to find peace. One day she meets Cory, a boy who accidentally killed a child several years ago and has been constantly attacked by the locals ever since, and sets him up with Allison. The young people start a relationship, Cory's life gets better, but he suddenly runs into Michael Myers hiding in the sewers. This encounter does not lead to anything good.

4k movies reviews
Michael Myers is back for the 13th time to scare the audience, and to make some people laugh. The latter is closer to the truth. An odd prologue introducing us to a 21 year old idiot who, by his behavior, looks stupider than a young boy. Then we see Haddonfield and its inhabitants, who are paranoid about all the murders. And then, unseemly nissego, this very psycho becomes the epicenter of events and enters into the confidence of the Strode family. Only the modest imagination of the screenwriters made them go for such a move. But things take a turn for the worse from here.

This is one of the longest running films of the franchise. And to live up to the carnage, we'll have to follow characters hanging around supermarkets, whose lines and behavior are no better than that same lunatic. The masquerade at the bar doubles this sense of disdain for this film, when some are in a frenzy and the adults are freaking out as much as they can. Madness is contagious. And perhaps the story of a young boy facing evil and having to make a choice between the light side and the dark side is not new. But here, even Curtis is out of place. Her story is long over, and she clearly deserves better than to be babysitting her granddaughter while writing her memoirs.

The franchise needed a breath of fresh air, and the writers decided to give the murders a new formula: there is bait and prey. But even Michael didn't deserve that kind of punishment. We've never seen such a weak Michael before, and the final showdown is the best part of the whole movie. But how many finales like this have we seen? Does Halloween end? Send Myers to the moon, shred his body into little pieces or shoot him point-blank, he will find ways to return, because as we know, evil can take many forms. One thing is clear: Green's trilogy is the same fan art of the original 1978 film, with none of the trilogy films managing to capture the spirit of Carpenter's brainchild, except for the iconic theme and old lady Curtis, who by the end of the trilogy was quite the cornered writer who decided to do battle with double evil at her leisure.

You'd be better off revisiting one of the best slashers of all time from way back in 1978 than wasting your time on second-rate knockoffs that take advantage of Carpenter's brainchild.

Info Blu-ray
Video
Codec: HEVC / H.265 (75.8 Mb/s)
Resolution: Native 4K (2160p)
HDR: Dolby Vision, HDR10
Aspect ratio: 2.39:1
Original aspect ratio: 2.39:1

Audio
English: Dolby TrueHD with Dolby Atmos 7.1 (48kHz, 24-bit)
English: DTS-HD Master Audio 7.1 (48kHz, 24-bit)
English: Dolby Digital 5.1
Spanish (Latino): Dolby Digital Plus 7.1
French: Dolby Digital 5.1 (448 kbps)
English: Dolby Digital 2.0 (192kbps)

Subtitles
English SDH, French, Spanish.
File size: 65.64 GB
4K-HD.CLUB
Download
from TakeFile
We now have
Telegram, get notified of new releases 4K movies!
Watch the movie trailer Halloween Ends 4K 2022
Related 4K movies